Prisoners receive £10m compensation in last five years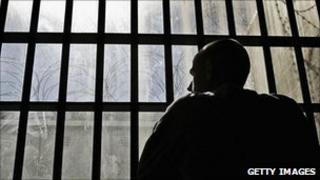 Prisoners in England and Wales have received more than £10m in compensation over the past five years, figures show.
Figures released by the Ministry of Justice to the Press Association showed almost £1.6m was paid out in 2010-11.
Four prisoners got between £125,000 and £62,000 in personal injury cases. Three got £25,000 for "false imprisonment".
The MoJ said all claims were "robustly defended and would only be settled on the basis of strong legal advice" to get the best value for the taxpayer.
"The vast majority of prisoners' compensation claims are relatively trivial, do not merit financial redress, and are dismissed at an early stage," an MoJ spokesman added.
Medical negligence
In 2010-11 some 280 offenders won payouts of less than £10,000, with many of the smaller claims relating to delays in processing release papers, which can lead to prisoners spending too long behind bars.
The £1.6m paid out was less than half the £3,286,521 awarded in 2009-10, when the total was boosted by £1.6m in payouts for medical negligence cases.
The figures showed that a total of £1,669,312 was paid out in 2008-09, £1,452,309 in 2007-08 and £2,142,671 in 2006-07.
One of the largest compensation payments to date was a £2.8m settlement in 2005-06.
In a separate case, £1.14m went to former prisoner Gregg Marston, of Shoeburyness, Essex, who was left crippled when a doctor failed to send him for an urgent examination.
His case, which was settled out of court, centred on his treatment at Chelmsford prison in Essex in February 2000.
Lobby group the Taxpayers' Alliance said the public would be shocked at the figures.
Director Matthew Sinclair said: "It's an incredible amount of money... and with so much pressure both on families' finances and on the budgets in public services, people are going to be very worried about seeing so much money going on compensation to prisoners.
"It does raise issues both about management in prisons and about some of that culture... that compensation culture which is resulting in such large payouts."
BBC political correspondent Robin Brant said the figures, which included the coalition's first year in government, appeared politically "unpalatable" at a time when government departments are finding ways to save money.
Although £10m was small in relation to hundreds and hundreds of millions of pounds in savings, our correspondent called it "awkward" for the justice secretary and prime minister.