Newspaper review: Papers focus on Tory's death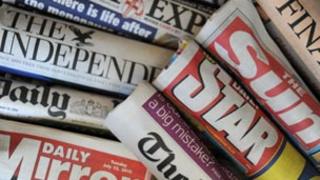 The death of a member of David Cameron's Tory constituency association at the Glastonbury festival is on most of the front pages.
The Daily Telegraph says Christopher Shale's body was discovered in a portable lavatory after being missing for almost 24 hours.
The Daily Mail reports that his wife, Nikki, had spent the early hours of Sunday desperately searching for him.
The Daily Mirror says it came hours after a memo from Mr Shale attacking the Tories' image was leaked to a Sunday paper.
In the memo Mr Shale said: "Collectively, we are not always an appealing proposition."
The Times says the timing of events prompted questions about whether they were linked.
But the Tories said they amounted to a "terrible, awful coincidence".
The education secretary's appeal to teachers in England and Wales not to damage their reputation by going on strike makes the lead in the Guardian and the Independent.
The Times says teachers' unions have denounced Michael Gove's idea of a "mum's army" coming forward to keep classrooms functioning.
The Mirror says untrained parents are a poor substitute for proper teachers.
The Telegraph says the brightest graduates will be handed up to £20,000 to train as teachers under plans to improve state education standards.
Graduates with first-class degrees will be eligible for the most generous bursaries to teach science and maths.
The Mail says the combination of hot weather and a line-up of Wimbledon superstars, including Andy Murray, is set to make it a "Manic Monday".
Finally the Sun warns us not to put the woollies and wellies away just yet, despite the hot weather.
The Daily Express tells readers: "Top up your tan while you can."
The heatwave in the south of the country, it warns, will end with a bang later. Thunderstorms and heavy rain are expected on Monday night.