Phone-hacking police bail Press Association journalist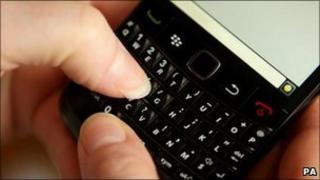 A 34-year-old woman has been arrested as part of police investigations into alleged phone-hacking by journalists.
She was arrested at a central London police station on suspicion of intercepting communications and later released on bail until early October.
The BBC understands the woman is Laura Elston, who covers royal stories for the Press Association news agency.
Scotland Yard launched Operation Weeting in January after new claims of phone-hacking at the News of the World.
Ms Elston used to be the Press Association's royal correspondent but returned to a changed role after maternity leave.
The Press Association confirmed one of its journalists had been arrested.
Last Thursday, police arrested a 39-year-old woman in West Yorkshire as part of Operation Weeting. She was also bailed until October.
Three other people have been arrested and released on bail until September.
They are the News of the World's former news editor Ian Edmondson, chief reporter Neville Thurlbeck and senior reporter James Weatherup.
Royal aides
Meanwhile, the High Court has ruled that lawyers for celebrities who fear their phones were hacked by News of the World journalists can obtain notes seized by police.
The decision means information gathered by private investigator Glenn Mulcaire could be examined by lawyers.
Hugh Tomlinson QC had told the court the material was needed so levels of damage could be assessed.
Mulcaire and ex-News of the World royal editor Clive Goodman were jailed in 2007 for hacking the phones of royal aides.
Mr Tomlinson, representing high-profile figures including Labour politician Lord Prescott, actor Jude Law, television presenter Ulrika Jonsson and ex-footballer Lee Chapman, said people had "effectively been under surveillance".
At a hearing in London, Mr Justice Vos sanctioned an agreement between lawyers representing celebrities making civil damages claims and the Metropolitan Police about the information from Mulcaire's notes.
Actress Sienna Miller and football pundit Andy Gray have settled civil claims against the News of the World's publisher News Group Newspapers.