Newspaper review: Planned teachers' strike explored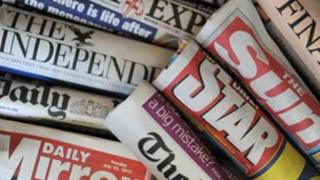 The teachers' strike planned for later this week features prominently in Tuesday's newspapers.
The Daily Telegraph reports accusations that unions have been "bullying" head teachers into shutting schools. The NUT says it has offered "standard advice".
Leader columns in the Telegraph and the Sun urge heads and parents to come together to keep schools open.
The Daily Mail and Daily Express say Britain can no longer afford to sustain teachers' present pension schemes.
Arrest warrant
Several papers believe Col Gaddafi may be more likely to cling to power as a result of the warrant for his arrest from the International Criminal Court.
The Independent suggests it could wreck the chances of negotiating the Libyan leader's retreat into exile.
The Daily Mirror fears reprisals if Col Gaddafi feels he has nothing to lose.
Meanwhile a political crisis could force the resignation of Iranian President Mahmoud Ahmadinejad, reports the Independent.
Waiting to land
The Times leads on a report that 60% of planes into Heathrow are kept circling before they can land because the airport is full to capacity.
This burns 190 tonnes of fuel and emits 600 tonnes of carbon dioxide daily.
In the Guardian, a leading banker warns that the UK is facing a "tsunami" of house repossessions as soon as interest rates start to go up.
The Independent leads on the news of an average 83 applications for each graduate vacancy.
Royal court
The Mail hails the "new queen of SW19" after the Duke and Duchess of Cambridge watched Andy Murray play at Wimbledon.
Among many pictures of the newlyweds, they are seen joining in a Mexican wave from the royal box on Centre Court.
The Mail also reports that, within half an hour of their appearance, the Alice Temperley dress worn by the duchess sold out on the designer's website.
As for the tennis, the Times says Murray "put on a display fit for a prince as well as a duchess".