Diamond Jubilee medal for public servants unveiled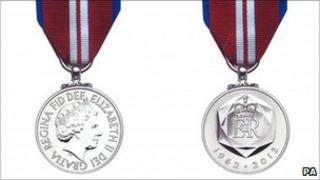 A medal to celebrate the Queen's Diamond Jubilee has been unveiled.
The official emblem is being launched to mark the monarch's 60 years on the throne. It resembles a 10p piece and bears the dates 1952-2012.
The armed forces, emergency services and prison service personnel are among those who will receive one.
Culture Secretary Jeremy Hunt said that, as the Queen had dedicated her life to public service, it was right to reward others who had done the same.
Living holders of the Victoria Cross and George Cross as well as members of the royal household will also be eligible for the award.
As are police community support officers who have completed five full calendar years of service.
'British spirit'
Culture Secretary Jeremy Hunt said: "The Queen has dedicated her life to the service of this country and the Diamond Jubilee will offer us all the opportunity to celebrate the commitment, loyalty and faithfulness with which she has led the country across the last 60 years.
"It is right that we reward those people who, like the Queen, also dedicate their lives to public good and who represent the very best of the British spirit.
"I hope the official medal will serve as a mark of thanks to all those who give so much in the name of society and public service and I extend my congratulations to all the recipients."
The Diamond Jubilee celebrations will centre around a long weekend next year from 2 to 5 June.
Buckingham Palace will co-ordinate a programme of events on these dates including a Jubilee lunch, a pageant on the River Thames, a concert at the palace and the lighting of 2,012 beacons throughout the UK.