Newspaper review: Strike impact predictions offered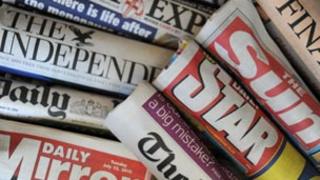 On the eve of strike action by teachers and other public sector workers, the papers offer predictions about the impact of the walkouts.
While the Daily Mirror expects 5,000 schools in England and Wales to be closed or partially shut, the Daily Mail figure is as much as 20,000.
The Daily Telegraph suggests action by immigration staff will affect half a million airline and ferry passengers.
The Independent says courts and job centres will also be badly affected.
Innovation need
The Telegraph welcomes the government's plans to make universities in England give students more information about facilities and teaching hours.
"Such transparency is long overdue," argues the paper, suggesting many institutions will hate it "for it will expose their weakness".
The Times says it would stir innovation in a sector that badly needs it.
The Financial Times says the plan to allow new providers of degree courses should push up standards.
Deportation cases
The Daily Mail reports a European Court of Human Rights ruling that two Somali criminals cannot be deported from the UK because they might face torture.
"Why can't we kick them out?" the Mail complains, adding that the ruling could apply to more than 200 similar cases.
The Daily Express wants the human rights regime reformed with the creation of a British Bill of Rights.
The Telegraph reports on a study that suggests listening to the radio makes people happier than TV or the internet.
Tennis fans
Ticket prices for the men's final at Wimbledon have reached £10,000 on the internet, reports the Times on the day of Andy Murray's quarter-final match.
Hopes that the Scot could go all the way in the tournament have fuelled the soaring values.
The Independent reports on four school friends who have been queuing outside since Sunday for Centre Court tickets.
Having not washed for "a combined 300 hours", the paper worries for whoever ends up sitting next to the boys.