Newspaper review: Papers have little sympathy for strikes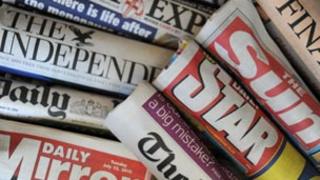 There is little sympathy in Thursday's papers for the strikes by public sector workers and teachers in protest about changes to their pensions.
The Daily Telegraph says the unions are resisting changes to pensions that "the country - for demographic reasons - can no longer afford".
The paper reports figures showing "how public sector retirement funds dwarf their private sector counterparts".
The Guardian urges the government and unions to "settle this dispute".
'Inglorious politicking'
The unions are embarking on a battle they cannot win, says the Daily Mail.
"For if the Government were to surrender on this issue, it would end all hope of our return to prosperity," the paper's leader column argues.
But the Daily Mirror accuses an "opportunistic" prime minister of "inglorious politicking" on the issue.
"The truth is public service pensions are affordable, as Lord Hutton's report revealed when the cost as a share of national wealth is predicted to fall."
Rescue package
Despite Greece's approval of new austerity measures, the UK press remain pessimistic about the country's financial prospects.
The Times suggests the resultant international bailout "will buy some time or, in markets jargon, has kicked the can down the road a bit".
But it predicts "another huge rescue package" will be needed.
The Financial Times suggests "markets are likely to be unconvinced that default can be averted for long".
Pope's tweets
Ed Miliband has been Labour leader for nine months, but a survey for the Independent suggests many people still cannot recognise him.
Pope Benedict's steps into social media are covered in the Sun, where he is shown posting his first tweet.
The paper looks forward to finding out whether Andy Murray's career can reach stratospheric heights or "whether he will remain the Nearly Man".
The Mail fears the Briton is still a "giant step... from the true elite".