Newspaper review: Excitement at royal Canada visit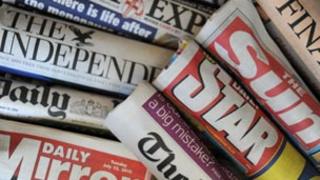 There's excitement about the royal visit to Canada, with the Daily Mirror declaring that the Duke and Duchess of Cambridge have "stardust".
"The combination of royal mystique and a common touch - William and Kate have the winning formula," the Mirror says.
Kate left fans "in danger of being so dazzled that they almost forgot she had brought her husband", says the Times.
The Daily Telegraph explains that "Canada invented the wildly popular royal visit" back in 1860.
Dispute disputed
There's disagreement between the two papers leading on Thursday's strikes over the effectiveness of the walkouts.
The imes' headline declares: "First strikes fail to spark." But the Daily Mirror thinks "yesterday's strikes had the air of a Middle Britain rebellion".
In the Guardian, Michael White points out: "As demonstrations go, yesterday's was very good about its litter."
There was "an earnest respectability" to the walkouts, he says, but still declares "a points win for the unions".
BSkyB thinking
The government's green light for Rupert Murdoch's News Corp to take over BSkyB is considered by the Independent to be "rather alarming for the health of Britain's media and its democracy".
In the Guardian, Kelvin Mackenzie wishes for "hundreds more" Mr Murdochs so "unemployment would be wiped out".
On the issue of unemployment, the Daily Mail hails Iain Duncan Smith for urging employers to hire home-grown workers.
The "minister who dares to speak the truth", the paper calls him.
Honest Cash
There are reports, comment and analysis throughout Friday's papers about the e-mail sent by a prospective mother-in-law criticising her son's fiancee.
The Daily Express says in a year that has seen "one famous wedding, this one promises to be another to remember".
Let's hope Andy Murray gets to read the Guardian piece, "What Murray needs to do to beat Nadal today."
But among the advice, 1987 champion Pat Cash disappointingly admits: "I don't think there's one key factor alone."