Newspaper review: Papers focus on ex-IMF head release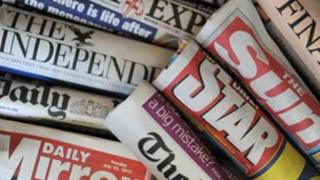 Dominique Strauss-Kahn's release from house arrest provides the main story for the Times and the Financial Times.
The former head of the International Monetary Fund was accused of sexually assaulting a hotel maid but the case is said to be close to collapse.
The FT says the development left the French political scene in turmoil.
The Times says the Socialist Party in France indicated it would consider extending the deadline later for him to declare his candidacy for president.
Misguided 'jobsworths'
The Daily Telegraph leads with a warning by the chairman of the Health and Safety Executive, Judith Hackitt.
She tells the paper that misguided "jobsworths" have turned school playgrounds into joyless no-go zones for fear of being sued.
The latest from Alastair Campbell's diaries is the lead for the Guardian.
According to him, Tony Blair believed the Prince of Wales publicly interfered in government policy, sometimes over-stepping constitutional boundaries.
Prison attack
The Independent reports that pressure is mounting to drop charges against anti-cuts protesters who occupied the Fortnum and Mason store in March.
Proceedings against five of the youngest campaigners were deemed not in the public interest and withdrawn.
According to the Sun's main story, prisoner Roy Whiting has been left with two black eyes after being attacked by a fellow inmate at Wakefield prison.
Whiting murdered eight-year-old schoolgirl Sarah Payne 11 years ago.
Sporting force
The papers reflect on Andy Murray's failed attempt to reach the men's singles final at Wimbledon.
Jim White in the Daily Telegraph says he was dismantled by the astonishing sporting force known as Rafael Nadal.
The Daily Star says Murray's "Wimbledon dream ended in tatters, as did the hopes of 15 million Brits who watched him on TV".
The Sun reckons that at least we have seen a lighter, brighter Murray this time - and there is always next year.