Newspaper review: Food in focus for Sunday papers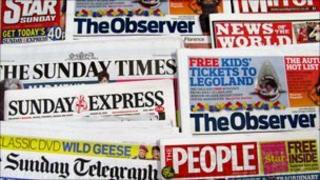 Starvation has returned to the Horn of Africa, according to a special report by the Independent on Sunday.
Drought combined with war in Somalia and soaring food prices is threatening a famine that could affect eight to 10 million people, the paper says.
According to the Observer, long-awaited legislation on how supermarkets treat their suppliers looks likely to be derailed or rendered toothless.
This is by what is described as "heavy artillery lobbying" by big retailers.
Duchess's fears
The Prince of Wales has apparently summoned seven cabinet ministers in 10 months for talks on issues ranging from global warming to architecture.
Documents were obtained by the Mail on Sunday under Freedom of Information.
According to the Sunday Express, the Duchess of Cambridge has spoken of her concern for Prince William on his helicopter rescue missions.
She is said to have told a military wife in Canada: "I always worry - but my job is to support my husband."
Commons tensions
The Observer takes a look at what it describes as the "simmering antagonism" between the prime minister and Commons Speaker John Bercow.
Mr Bercow twice interrupted David Cameron during Prime Minister's Questions on Wednesday.
The Observer wonders whether a "bitter class divide" might be to blame.
The Mail on Sunday's Peter Hitchens says history tells us that when there is a battle between the Speaker and the State, the Speaker is the one to back.
Brassed off
According to the News of the World, "Mickey Mouse" degrees in "wacky subjects" such as surfing and puppetry are being axed.
This is because, it says, students faced with paying up to £9,000 a year for courses are no longer applying.
UK military bandsmen are "brassed off", according to the Sunday Telegraph.
The paper says cash payments of about £80 to £150 they received for playing at events will now go to the Ministry of Defence in a money-saving move.