Newspaper review: Papers preview elderly care report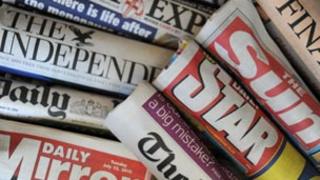 The Daily Telegraph says David Cameron will "welcome" Andrew Dilnot's report into caring for the elderly in England.
The paper says the review is going to recommend a cap on how much people should have to pay for care.
The Daily Mail reports that pensioners would still face "big fees" because the cap does not cover "hotel costs".
The paper says these are for items such as a room, food and heating which at more than £10,000 make up roughly half of an annual care home bill.
Treasury role
The Alzheimer's Society tells the Independent it has seen reports that suggest the chancellor is baulking at the costs of elderly care proposals.
However, according to the paper, Treasury sources insisted they would not kick the plans into the long grass and were keen to go ahead with reform.
According to the Daily Mirror, the Treasury is expected to pick up the bill needed to plug the spending gap.
An editorial in the Sun describes the Dilnot plan as "sensible".
Benefits question
The Daily Telegraph calls on the government not to "duck" changes to housing benefit.
This after it emerged that a Whitehall official warned these could leave thousands of people homeless.
But the Guardian believes that now some peers will be emboldened to amend the Welfare Bill when it goes through the Lords so the cap is less "punitive".
The Department for Work and Pensions says it does not accept that a cap would increase homelessness.
Grass eating
Novak Djokovic clasping and kissing the Wimbledon men's singles trophy appears on the front pages of many papers.
As does the photo of him eating a few blades of Centre Court grass to mark his win against Rafael Nadal - "Chompion" says the Sun.
Writing in the Times, Simon Barnes says the Serbian displays a "fine streak of madness".
The Daily Telegraph says his victory was not just personal - he ended his country's days as a pariah state.