Olympic security preparedness tests launched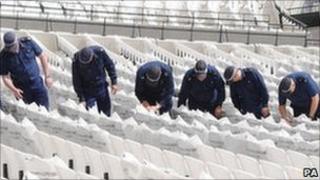 Police, emergency services and other agencies are to be tested on how they would deal with crises at the London Olympic and Paralympic Games.
The Home Office will run at least 10 exercises in the run-up to the 2012 games, testing preparedness at venues.
The exercises will test how well different agencies work together in a variety of emergency situations.
Eleven police forces and the military are involved in the security effort, which has a budget of up to £600m.
Some will be paper exercises, but others - taking place in spring - will be tested as if for real by government departments, police and emergency services.
The exercises are being prepared as the final phase of the security plan for the games and will examine not just how organisations work with each other but how they are able to communicate with the public.
Olympic security chiefs have already carried out a series of tests with specialists looking at the experience of other Olympic cities, including Beijing and Vancouver.
A wide range of scenarios are expected to be covered, including terror threats.
Home Secretary Theresa May said: "I want to reassure everyone that with a year to go we will leave nothing to chance in our plans to deliver a games that London, the UK and the whole world will enjoy."
The Home Office has been working on the security plans for the games ever since the government made a series of commitments to the International Olympic Committee on how they would manage events.
Officials say that although the police forces involved all have experience of dealing with major public events, the Olympics is expected to create unprecedented challenges.
Met Police Assistant Commissioner Chris Allison said there were a number of ways in which police would ensure the games were secure, from defensively searching the venues, to security staff searching visitors as they enter.
He said terrorism was the main threat to the games, alongside organised crime such as ticket-touting and the potential for protests.
"But we've got some well tried and tested plans, we use them every day, every week up and down the country. This is the greatest show on earth, this is a sporting spectacle, what we need to ensure is people to get to see and enjoy it," he said.
The digital radio system used by the police in London has had its capacity increased because up to 10,000 officers will be policing events at peak times.
The Metropolitan Police has also established the National Olympic Co-ordination Centre, based at Scotland Yard.
During the games, it will be staffed by senior figures from each emergency service or agency involved in the security operation, communicating with similarly-organised teams in the different games' locations.