Kate and William 'making significant impression'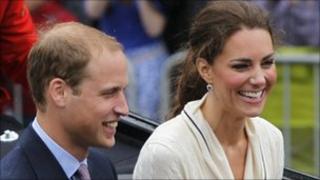 It is the half-way point of William and Kate's first foreign visit together and on any analysis, it's going well for them.
His French may cause the French-speakers to wince, but at least he has made the effort and that has been appreciated.
Her composure has once again been striking, given the intense level of scrutiny she is under. At no point so far has Kate appeared to be in the least bit perturbed by it.
And both of them have shown the easy and unstuffy friendliness which is becoming their trademark and which is undoubtedly making a significant impression.
Canada Day in Ottawa was always going to be a success. The Canadians are thrilled to bits that the couple have chosen this country for their first visit after their wedding.
It's one-up on every other nation, and particularly on the Americans. So it was no surprise at all that tens of thousands came out to greet them in Canada's capital city on the country's national day.
'Low-key charm'
But the visit to the French-speaking province of Quebec was a much bigger test for them, given the history of indifference and even hostility in Francophone Canada towards the British Royal Family's special position here.
But first in Montreal, and then in the city of Quebec, the couple deployed their low-key charm to good effect.
The crowds in Quebec city were certainly very much smaller and rather more subdued than they had been in Ottawa, but the welcome from those who gathered outside City Hall was warm. And the fact that William delivered a short speech entirely in French was noted with approval.
The decision to take them to Quebec had been something of a gamble but it had paid off. The officials from St James' Palace travelling with the prince were pleased and relieved: the welcome had exceeded their hopes.
Right now the couple are on the safer territory of the Atlantic coast, on Prince Edward Island where all things royal are appreciated.
After that it's the remote northern city of Yellowknife, and then "cowtown", the city of Calgary for the annual stampede.