UK judge Sir Nicolas Bratza gets top human rights job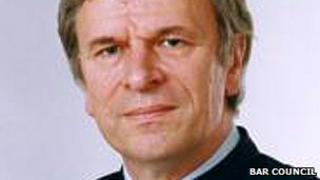 A British judge has been appointed to the highest post at the European Court of Human Rights.
Sir Nicolas Bratza will take over as president of the Strasbourg court in November, after he was elected in a secret ballot.
The Oxford-educated lawyer has been a judge at the court since 1998 and a vice-president since 2007.
The court's 47 judges help rule on alleged infringements of the European Convention of Human Rights.
Sir Nicolas will replace Frenchman Jean-Paul Costa, who is retiring at the end of his term of office.
The 66-year-old started practising as a barrister in 1969 and became a High Court judge in 1998. That same year he also began work in Strasbourg.
His father was Milan Bratza, a Serbian concert violinist who settled in London after the First World War, and his mother came from the Russell family, which has produced law lords in three generations.
'Political concerns'
However, the choice of a Briton is unlikely to calm political unease in the UK that the court is passing judgments seen as imposing human rights policy on the government.
Controversy has surrounded decisions over prisoners' voting rights and the rights of illegal asylum seekers with serious criminal convictions.
In February, MPs voted to keep the ban on prisoners voting, but the decision is not binding.
If the government goes against the court's ruling, it could face being sued on human rights' grounds by thousands of inmates.
The European court's judges are taken from each of the countries that has ratified the Convention.
They contribute expertise about their own national legal systems, but are duty-bound to act impartially in the way the Convention is interpreted.
The UK ratified the Convention in 1951 and the Labour government enabled its rights to be enforced in national courts through the 1998 Human Right Act.