News of the World phone hacking: What commentators say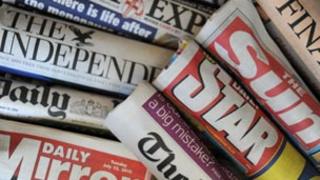 The News of the World phone-hacking scandal appears to be deepening amid claims that those targeted by the newspaper's journalists were not all celebrities and political figures.
The families of 7/7 bombing victims, murdered schoolgirl Milly Dowler and the parents of murdered Soham girls Holly Wells and Jessica Chapman are all alleged to have had their phones hacked.
What are media commentators saying about the fall-out of the scandal on the press and how it is regulated?
Roy Greenslade, professor of Journalism at City University and Guardian commentator
"The hacking saga has the potential to besmirch the rest of the press and the journalists who work for it.
"Unless we cleanse the Augean stables of Wapping, we will suffer for ever from public odium.
"It also means that we need to overhaul the failed system of self-regulation, which has done a good job of mediation but does not actually regulate.
"The editors' code of practice is a reasonable document, though we need to give some attention to defining the public interest. And newspapers themselves have to place 'public interest' at the heart of their journalism.
"We have lost public trust and credibility because too much published material is of no lasting benefit to society."
Dominic Ponsford, editor, Press Gazette
"In the wake of the David Kelly affair and the Hutton Report, the BBC embarked on a huge training programme for all its journalists. A similar response now needs to be taken by the UK's press.
"Every bona-fide news organisation in the UK needs to look at its staff and make sure they have had proper training in ethics, media law, and so on.
"The vast majority of journalists in the UK do an incredibly demanding and important job for not much money because they believe passionately in what they are doing.
"If the industry is to avoid the collapse of self-regulation under the Press Complaints Commission I believe it needs to take urgent action to ensure that all journalists adhere to high professional standards and to ensure that these rules are also applied to any third party agencies or lone operators that news organisations may use."
Joshua Rozenberg, legal analyst
"Journalists employed by broadcasting organisations are regulated much more strictly than newspaper reporters.
"For years, broadcasters were running to catch up with tabloids who seemed to have much better sources of information.
"Now that the public knows how some of the newspapers got their stories, they may well feel that newspapers should be regulated in much the same way as broadcasters.
"But the government should be cautious about restricting freedom of expression, a right that is protected by the European Convention on Human Rights."
George Brock, former managing editor of The Times, now professor of Journalism at City University
"It's damaging News International, it's damaging the other papers.
"... People are resigning their online subscriptions to The Times, which has no connection to any of these events that I know of. It's as serious as it gets...
"I think it is a tipping point for journalism because people are now realising - some of them journalists who perhaps weren't aware of the wider extent of this kind of thing - that there's more house-cleaning to be done."
Steve Hewlett, presenter, BBC Radio 4 Media Show
"Clearly, it's very bad for the News of the World, and it's very bad for News International, but if this doesn't spread beyond News International in a significant way then I'm a Dutchman.
"The News of the World may have done more of it but I would be very surprised if it wasn't more widespread than that.
"If you're going to be a free press, if you're going to be unconstrained and unregulated, that clearly brings with it responsibility... that's where the balance has gone wrong."
Alan Rusbridger, editor-in-chief, The Guardian
"I would reform it (the Press Complaints Commission). I think it needs to prove that it can do the act of regulation.
"It's a good mediator. I believe in self-regulation but it evidently hasn't been up to the task of what went on and it shouldn't have pretended that it could - that's where it got itself into difficulties."