Newspaper review: Demise of NoW dominates papers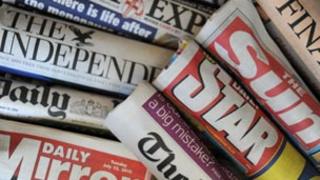 The demise of the News of the World amid the phone-hacking scandal inspires headlines the tabloid's journalists would be proud of.
"Goodbye, cruel World" is the Daily Telegraph's offering, while the Daily Mirror and the Times both come up with "Hacked to Death".
The Daily Mail talks of "the paper that died of shame" and the Daily Express has a similar "shut in shame".
The Sun, the News of the World's sister paper, declares: "World's End".
Cynical move?
The Independent's headline, based on comments made by News of the World journalists, talks of the "newspaper sacrificed to save one woman".
The Mail believes Rupert Murdoch's move was done to save his BSkyB deal and protect his son and News International chief executive Rebekah Brooks.
The Guardian thinks it is a "clinical" or even "cynical" action by Mr Murdoch.
The paper also reports that former editor Andy Coulson will be arrested on Friday but the police have not commented.
Yesteryears
There's little dancing on the grave, with several papers recalling years of News of the World triumphs and scoops.
The Mirror says "before the name became sullied beyond repair... it was famous for its celebrity exposes, hard-hitting investigations and campaigns".
The Telegraph says from its first edition in 1843, the News of the World "took pride in causing scandal and excitement with its coverage".
"Yesterday was a day that Fleet Street will long mourn," muses the Times.
Photo finish
In other news, the Mail talks of the "staggering cost" of running the new MPs expenses system, following a study by the National Audit Office.
The Independent says microbiologists at North Carolina State University have found that belly-buttons contain 1,400 strains of bacteria in a study.
Many papers have photos of the very last Harry Potter film, after its premiere in London last night.
"We salute one of the greatest British success stories ever," says the Sun.