Profile: Glenn Mulcaire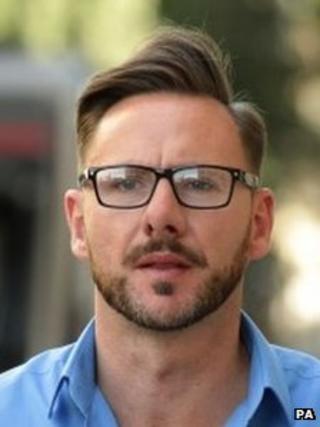 He was "Trigger" to friends in his life as a striker at AFC Wimbledon, but to many other people he is the private investigator whose activities first turned attention on phone-hacking at the News of the World (NoW). Who is Glenn Mulcaire?
It was while running a company - Nine Consultancy - that offered a service protecting clients from media intrusion that Mulcaire, from Sutton in Surrey, first caught the eye of the NoW.
He had a year's contract with the Sunday paper for "research and information services" worth £104,988 and also received £12,300 in cash from the tabloid.
In reality, he was providing the newspaper with the mobile phone details of the rich, powerful and famous and was eventually arrested in August 2006.
Mulcaire and then NoW royal editor Clive Goodman were jailed for six months and four months respectively in January 2007 after admitting intercepting voicemail messages on royal aides' phones, including some left by Prince William.
He was also convicted of intercepting the messages of public figures, including publicist Max Clifford, Lib Dem MP Simon Hughes and actress Elle MacPherson.
After his release from prison, Mulcaire returned to his old job as an investigator, working for Quest - a company run by former Metropolitan Police Commissioner Lord Stevens, which specialises in corporate investigations and risk management.
'Confidentiality club'
Until he broke his silence in July 2011 to apologise to those hurt or upset by his activities, the father of five had remained out of the public glare while the phone-hacking scandal snowballed around him.
In November 2011, Mulcaire issued a statement through his lawyer stating that he did not delete messages on the phone of murdered schoolgirl Milly Dowler - the issue that led to the closure of the NoW - and had had "no reason to do so".
The Metropolitan Police later told the Leveson Inquiry into press ethics that it was "most likely" the messages had deleted automatically.
Mulcaire also embarked on two legal battles, firstly winning a judgement ordering his former employer to pay his legal fees in civil phone-hacking cases.
However, in early July 2012, he lost his other battle - a Supreme Court appeal against two court orders that could force him to reveal who ordered him to hack phones.
The ruling meant he would have to reveal the name to a "confidentiality club" made up of the lawyers and litigants in the civil phone-hacking case.
In December 2011, Mulcaire was arrested and bailed on suspicion of conspiracy to hack voicemail messages and perverting the course of justice.
On 24 July 2012, the Crown Prosecution Service announced that he would face four unspecified charges relating to the alleged phone-hacking of Milly Dowler, former Fire Brigades Union boss Andrew Gilchrist, chef Delia Smith and former home secretary Charles Clarke.
Mulcaire issued a statement saying: "I'm extremely disappointed by today's decision, given that in 2006 I was the subject of a comprehensive police investigation on this matter.
"I subsequently pleaded guilty and served the prison sentence imposed on me by the court.
"As far as I am aware, the police did a thorough investigation into me at the time and I intend to contest these allegations strenuously."
Eye for the goal
His friends and fellow sportsmen at AFC Wimbledon, where Mulcaire played for five years before his 2007 conviction, may wonder why he did not stick to football.
As a striker for the then non-league club founded in the aftermath of Wimbledon FC's move to Milton Keynes, Mulcaire struck his way into the club's history books.
His left-foot volley from outside the area in a friendly against Bromley in 2002 was the club's first ever goal.
AFC Wimbledon's chief executive, Erik Samuelson, 63, recalled: "He was long, lean and rangy, never a physical or muscular player and with no great pace, but he had a good shot on him and a good eye for the goal."
He said "Trigger" played for the first team in 2002 on a number of occasions, but was never a first team regular and soon faded into the background.
"He had a terrific shot on him though, there's no question about that," he added.