James Murdoch: Key extracts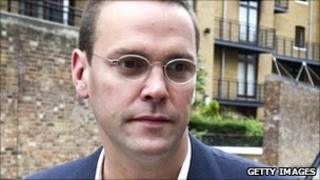 James Murdoch, CEO News Corporation International has been facing a Culture, Media and Sport committee hearing, to answer questions over phone hacking conducted by News of the World journalists. Here are some of the key extracts of his testimony.
Apologising for acts of phone hacking by News of the World journalists:
"I would like to say as well how sorry I am and how sorry we are to particularly the victims of illegal voicemail interceptions and to their families. It is a matter of great regret of mine, my father's and everyone at News Corporation and these are standards...
"These actions do not live up to the standards that our company aspires to everywhere around the world and it is our determination to both put things right, make sure these things don't happen again and to be the company that I know we've always aspired to be."
On the News of the World:
"Most of the individuals involved or implicated in the allegations that were there had long since left the company. Some that were still there... exited the business as soon as evidence of wrongdoing was found, and the process was set up in co-operation with the police to aid them with any of those things that they wanted to do."
On closing the News of the World:
"The closure of a newspaper with a history of 160-some odd years history is something that is a grave thing and something that is a serious matter of regret for us, for the company. But much more serious than that is the seriousness of the violation of privacy, the hurt that certain individuals at the News of the World caused to the victims of illegal voicemail interceptions and their families.
"And, really, I can tell you - I advocated at the time that this was a step that we should take. This was a paper and a title that had fundamentally violated the trust of its readers and it was something that was a matter of great regret, real gravity but under the circumstances, with respect to the bad things that certain of the things that happened News of the World some years ago did, it was really the right choice for the paper to cease publication."
On whether legal manager Tom Crone, chief executive Rebekah Brooks or senior News Corporation executive Les Hinton had left because they had acknowledged phone-hacking:
"I have no knowledge and there is no evidence that I'm aware of that Mrs Brooks or Mr Hinton or any of those executives had knowledge of that and their assertions - certainly Mrs Brooks - and assertions to me and her knowledge of those things has been, has been clear.
"Nonetheless those resignations have been accepted but it's important , you know, on the basis that there is no evidence today that I have seen or I have any knowledge of, that there was any impropriety... by them."
On whether his company had been paying legal fees for the jailed private investigator Glenn Mulcaire:
Paul Farally: "Have you been paying legal fees for Glenn Mulcaire during the course of the civil actions?"
James Murdoch: "I don't know the details of the civil actions but I do know certain legal fees were paid for Mr Mulcaire by the company and I was as surprised and shocked to learn that as you are."
On the practice of phone hacking?
Louise Mensch: "I'm asking if the News of the World felt inured, inured, to engaging in these illegal practices, particularly phone hacking because it was so wide [spread] in British tabloid journalism. Did they not see it, as evil as it was, because it was so widespread?
James Murdoch: "Miss Mensch, I don't accept that if a journalist on one of our papers or television channel or internet news operation feels that they don't have to hold themselves to a higher standard... I think that it's important that we don't say, 'Listen everybody was doing it and that's why people are doing this'.
"At the end of the day, we have to have a set of standards that we believe in. We have to have titles and journalists who operate to the highest possible standard.
"And we have to make sure that when they don't live up to that, that they are held to account. And that's really the focus for us."