Rebekah Brooks: Key extracts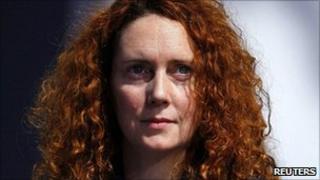 Ex-News International chief executive Rebekah Brooks has been facing a Culture, Media and Sport committee hearing, to answer questions over phone hacking conducted by News of the World journalists. Here are some of the key extracts of her testimony.
Apologising for acts of phone hacking by News of the World journalists:
"I would like to add my own personal apologies to the apologies that James and Rupert Murdoch have made today. Clearly what happened at the News of the World, and certainly when the allegations of voice intercepts, voicemail intercepts of victims of crime is pretty horrific and abhorrent so I just want to reiterate that."
On closing the News of the World:
"Once you have broken the trust with the readers there's not much going back. And unfortunately the News of the World used to lead the headlines for the right reasons - the cricket scandal recently - but for the last few months, and probably for the last few years, it's been leading the headlines for the wrong reasons, and once that trust was broken we felt that that was the right decision.
"Of course it wasn't the right decision for the hundreds of journalists who worked on there who had done nothing wrong, who were in no way responsible, many of whom were at the News of the World for many years, may have spent years at the News of the World but were not culpable for anything and we have endeavoured to find a job for every single one of them, [they] will be offered a job."
On paying police for information:
"I can say I have never paid a policeman myself, I've never knowingly sanctioned a payment to a police officer. At the time of the Home Affairs Select Committee recently you had various crime editors from Fleet Street discussing that, in the past payments have been made to police officers. I was referring to that wide held belief, not a widespread practice.
"And in fact, in my experience of dealing with the police, the information they give to newspapers comes free of charge."
On Milly Dowler's voicemail being hacked:
"I don't know anyone in their right mind who would authorise, know, sanction, approve of anyone listening to the voicemails of Milly Dowler in those circumstances.
I just don't know anyone who would think it was a right and proper thing to do at this time, or at anytime, and I know we know a lot more now but, but that's all I can tell you."
On the News of the World hiring private detective Glen Mulcaire:
Tom Watson: "Do you think Glenn Mulcaire would deny that he ever met you?"
Rebekah Brooks: "I'm sure he would - although I - you know, yes, it's the truth."
TW: "OK. Were you aware of the arrangement News Group Newspapers had with Mulcaire while you were editor of the News of the World and the Sun?"
RB: "No."
TW: "So you didn't know what he did?"
RB: "I didn't know particularly Glenn Mulcaire was one of the detectives used by the News of the World no."
TW: "Didn't know he was on the payroll?"
RB: "No, in fact I first heard Mulcaire's name in 2006."
TW: "Did you receive any information that originated from Glenn Mulcaire or his methods?"
RB: "What to me? To me personally?"
TW: "You as editor, did anyone bring you information as a result of Glenn Mulcaire's methods?"
RB: "I mean look, I know it's an entirely appropriate question, but I can only keep saying the same answer - I didn't know Glenn Mulcaire, I'd never heard the name until 2006. There were other private investigators that I did know about, and had heard about, but he wasn't one of them."