London 2012 Open Weekend marks Olympic year to go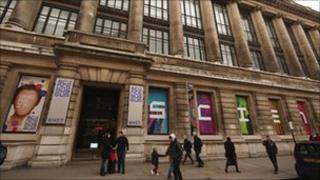 Cultural and sporting events are taking place across the UK from Friday as part of this year's 2012 Open Weekend.
Held days ahead of 27 July, which marks one year to go to the start of London's Olympic Games, 1,200 events are planned.
The Itch of the Golden Nit, a film made by children and Aardman Animations, will be screened in Trafalgar Square.
Birmingham will mark a year until the Jamaican athletics team is based in the city with a food and music festival.
Some of the events being held are free of charge and full details are on the Open Weekend website.
National Scottish and Aberdonian arts organisations will stage a series of performances in Aberdeen.
Medieval sports will be staged in Conwy. Across Northern Ireland, readers are being asked to record the most inspirational book they have read on a postcard.
East London will see Search Party, an interactive treasure hunt and the Portavilion floating cinema navigating the Olympic Park waterways.
Dysarticulate is a national installation which invites artists and audiences to create and plant paper flags recycled from book pages across the local landscape creating a unique public art exhibit.
Medals to be unveiled
Across the country, interactive games will be held on big screens in city centres and they will compete for the highest score.
The Live Site big screens will also show special screenings of the Academy Award winning British film Chariots of Fire.
Venues include Belfast, Birmingham, Bradford, Bristol, Cardiff, Coventry, Derby, Dover, Edinburgh, Leeds, Leicester, Manchester, Middlesbrough, Norwich, Plymouth, Portsmouth, Swansea, Swindon, Waltham Forest and Woolwich.
The weekend's events herald celebrations to be held in Trafalgar Square on Wednesday to mark a year to go until the start of the Games.
International Olympic Committee president Jacques Rogge and Mayor Boris Johnson will invite the world's athletes to come to the London Games.
The design of the Olympic medals will be revealed during the 1900 BST (1800 GMT) ceremony, which will be screened live on BBC One in the UK.