Paper review: Papers ponder Greece rescue plan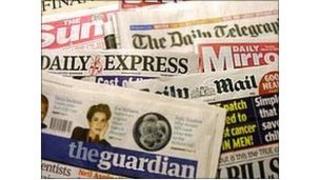 "A Marshall Plan with haircuts," is how theGuardian refers to the eurozone countries' attempts to find a solution to the Greek debt crisis.
Despite the comparison with the US plan to kickstart the European economy after WWII, it warns it is best to wait for detail before passing judgement.
The Independent agrees, saying that the eurozone leadershave done the bare minimum, buying time, but not much.
It says failure to agree on a radical plan means the crisis is not over.
'MPs misled'
"Wapping at war" is the headline in the Independent,which reports that "former allies" have turned on James Murdoch.
The Guardian reports that a former News of the World editorsaid he had told him of an email that would have "blown a hole" in the claim one rogue reporter had been responsible for phone hacking.
TheDaily Telegraph alleges MPs were "misled"by Rupert Murdoch's son.
However, News International tells the paper James Murdoch stood by the evidence he gave to MPs.
Duke's decision
Several papers ponder the news that the Duke of York is standing down as the UK's special representative for international trade and investment.
TheDaily Mail says his decision canonly be good news for the royal family.
TheSun says the prince is doing the UK a favourwith the decision as, with his "unsavoury mates", he was "more often an embarrassment than an asset".
TheIndependent says the news will be greetedwith "sighs of relief" at embassies around the world.
'Colossus of art'
TheTimes pays tribute to the artist Lucian Freud,who died on Wednesday.
Describing him as a "colossus of art", the paper says the grandson of Sigmund Freud had been regarded widely as the "greatest living painter".
The paper says that "flattery was not in his vocabulary".
It notes that after a painting of a stern-looking Queen drew criticism from those who thought it disrespectful, Lucian Freud remarked: "I paint what I see, not what you want me to see."