'Celebrity' Ferrari fetches £66,500 at auction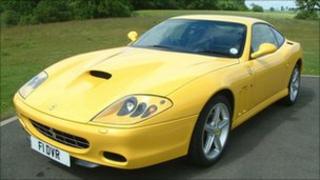 A yellow Ferrari previously owned by British rock guitarist Eric Clapton and radio presenter Chris Evans has fetched £66,500 at auction.
The rare 2003 Ferrari 575 Maranello, which has 10,000 miles on the clock, was snapped up by a private buyer at a sale in Silverstone on Saturday.
Auction manager Guy Loveridge said the vehicle exceeded its guide price.
The yellow Maranello was bought new by Mr Clapton, who signed its service book, and was later sold to Mr Evans.
Mr Loveridge said the Ferrari - which was described by Silverstone Auctions as a desirable car in its own right - was in lovely condition.
"Famous name provenance is always a help," he said.
"It's a great car and we are not surprised that it fetched such a large amount of money."
The car had been expected to go for between £58,000 and £66,000 at the Classic Sale at Silverstone, Northamptonshire - the home of the British Grand Prix.