Phone hacking: Law firm asked to reveal 'exact remit'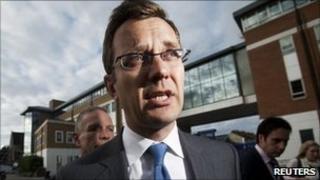 Law firm Harbottle & Lewis has been asked by MPs for precise information about its 2007 investigation into phone hacking at the News of the World.
The Home Affairs Committee has asked it to reveal the "exact remit" provided by paper's owner News International.
Meanwhile, Chancellor George Osborne said he regrets that ex-NoW editor Andy Coulson became the PM's press chief.
Labour leader Ed Miliband has revised his meetings list to reveal one with ex-NI chief executive Rebekah Brooks.
Harbottle & Lewis had previously said it was bound by client confidentiality, but last week it was authorised by News International to answer questions from Scotland Yard and parliamentary select committees about what it was asked to do.
Email inspections
The law firm, which has been used by the royal family in the past, was hired to defend a claim for wrongful dismissal by the News of the World's former royal reporter, Clive Goodman.
The journalist, and private investigator Glenn Mulcaire, were jailed at the Old Bailey in 2007 for phone hacking.
The legal firm examined a large number of internal emails from the accounts of six people at the News of the World, including Goodman and Mr Coulson, who was editor at the time Goodman and Mulcaire were charged.
It then wrote to News International to say that nothing had come to light to contradict the theory that the hacking had been restricted to a single rogue reporter working with Mulcaire.
But Lord Macdonald QC, the former director of public prosecutions, told the Home Affairs Committee last week that a police probe into alleged illegal payments to officers could have been launched as far back as 2007.
Lord Macdonald is now advising News International.
Home Affairs Committee chairman Keith Vaz has asked Harbottle & Lewis why the evidence it had in 2007 that was examined by Lord Macdonald in 2011 was not acted upon sooner.
The committee has also written to Lord Macdonald, current director of public prosecutions Keir Starmer QC, and former attorney generals Baroness Scotland and Lord Goldsmith asking them about their involvement in the phone hacking criminal inquiry.
Lord Goldsmith has replied, confirming that he received a memo in May 2006 from a Crown Prosecution lawyer, which stated there was a "vast array of information" about possible phone hacking victims that might need wider investigation.
He said he did not give any guidance to the CPS or the Metropolitan Police, which was leading the hacking inquiry, after this briefing.
Mr Osborne was asked at a press conference in London about Mr Coulson's recruitment by Prime Minister David Cameron after he left the NoW in the wake of the phone-hacking court case.
He said: "As I said last week in an interview, and I repeat the words of the prime minister, knowing what we know now we regret the decision and I suspect that Andy Coulson would not have taken the job."
And the Labour party has issued an update to a list of meetings held by Labour leader Ed Miliband with the media to include those from May to September 2010.
The original list released did not include Mr Miliband's meeting with Mrs Brooks in September 2010. She has also edited the NoW in the past and left her role at the company earlier this month.
It also showed there had been a third meeting with Colin Myler, then News of the World editor.
A spokesman for Mr Miliband said that the meetings were overlooked by the Labour leader's office when the list was first drawn up and that their omission was a "simple error".