Rogue soldier's killings 'prompted shock'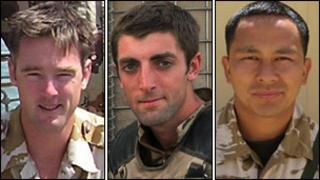 The deaths of three UK servicemen killed by a rogue Afghan soldier were "shocking and surprising", their commanding officer told their inquests.
Maj James Joshua Bowman, 34, Lt Neal Turkington, 26, and Cpl Arjun Purja Pun, 33, had served in 1st Battalion The Royal Gurkha Rifles.
They were killed in a gun and rocket-propelled grenade attack in July 2010.
An Afghan soldier, Talib Hussein, later claimed responsibility, saying he was angered by the conduct of UK troops.
Maj Bowman, from Salisbury, Wiltshire, was shot as he slept, while Lt Turkington, of Craigavon, Co Armagh, and Cpl Pun, from Nepal, died when a rocket-propelled grenade was fired into the command centre.
Lt Col Gerald Strickland told the hearing in Trowbridge, Wiltshire, of the Afghan National Army's (ANA) reaction to the killings, which took place in the early hours of 13 July.
"They were horrified. They were shocked. They were as surprised as we were and wanted to do anything to resolve the issue," he said.
"The stand-in Afghan commander wanted to take 20 men and go after Talib Hussein but I didn't want to do that."
Killer's claim
After the killings, a man called Talib Hussein contacted the BBC bureau in Kabul to claim responsibility, saying he had been angry at the conduct of British troops and that he had acted alone. He said he had joined the Taliban after the attack.
Lt Col Strickland said no motive had been established for the attack and there was no evidence to suggest he was a member of the Taliban.
"What I saw was on the BBC from an extract of his telephone conversation and it was reported he was incensed because he had witnessed Isaf (International Security Assistance Force) shooting a civilian, which I can categorically say hadn't happened," he said.
"I have no evidence to suggest [either way] but I believe he was a rogue soldier, is my feeling."
After the killings, Hussein was seen to go back into the Afghan section after telling his commander, "Look out the Taliban are attacking the Isaf".
The inquest also heard that there was no evidence that Hussein, who had been in the army for eight or nine months, had taken drugs.
Precautionary measures
Lt Col Strickland said the British Army were trying to develop the partnership with the Afghan forces but there had been tensions - which he stressed was normal.
For instance, British soldiers were issued with bottled water when the Afghan troops were not, which had caused problems at this particular base.
There had also been an incident in which an Afghan soldier was accidentally shot by a Gurkha while on patrol.
Lt Col Strickland said: "There were no recriminations at all as a result of it. It was accepted by the Afghans as something that happened."
He told the hearing after the deaths of the three soldiers, measures were introduced to try and prevent a repeat incident.
A curfew was introduced, as were night-time patrols, and no members of the ANA were allowed to carry weapons inside the UK part of the patrol base.
An armed sentry was also put on duty at the point where the Afghan and ISAF compounds met.