Afghan soldier 'forced' into killing, inquest hears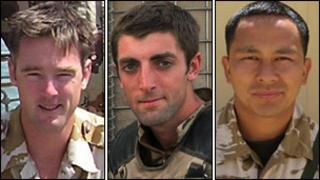 The Afghan soldier who killed three UK servicemen could have been forced into it, an inquest heard.
Capt Peter Houlton-Hart told the Trowbridge inquest he thought Talib Hussein was threatened with retribution if he did not carry out the attack.
Maj James Joshua Bowman, 34, Lt Neal Turkington, 26, and Cpl Arjun Purja Pun, 33, died in a gun and rocket-propelled grenade attack in July 2010.
They had served with the 1st Battalion The Royal Gurkha Rifles.
Maj Bowman, from Salisbury, Wiltshire, was shot as he slept, while Lt Turkington, of Craigavon, Co Armagh, and Cpl Pun, from Nepal, died when a rocket-propelled grenade was fired into the command centre.
Family threat
After the killings, a main calling himself Talib Hussein contacted the BBC bureau in Kabul to claim responsibility, saying he had been angry at the conduct of British troops and that he had acted alone. He said he had joined the Taliban after the attack.
Capt Houlton-Hart worked as a liaison between UK troops and the Afghan National Army. He told the inquest, in Trowbridge, Wiltshire, that he did not believe Hussein was a Taliban infiltrator.
"It could have been something as simple as someone's found his family and they've said 'We'll kill your family unless you kill some ISAF'," he told the inquest.
And he also said it was unlikely Hussein had just suddenly decided to carry out the attack.
"When you look at the time of the night, the direction he went in to engage the operations room first and then went to engage what he probably knew was the main commander's tent, there is an element of planning there.
"He had a lot of ammunition and I think he probably was there to go out in one big 'OK Corral' gunfight."
Drug reports
Four other UK soldiers were wounded in the attack before Hussein dropped his three weapons and ran from the scene.
Commenting on reports that Hussein had a regular hashish habit, Capt Houlton-Hart said he had never seen Hussein take drugs but had been told by other officers that he had.
"Retrospectively you start to look at things, he did have a glazed look and when you said 'hello' there was a big grin.
"I did work with him plenty of times but when you look back there was nothing that made me think I was at risk.
"The glazed thing was a general recollection of him. He did have a big smiley grin and a glazed look in his face - which is only speculation - that he might have been taking drugs."
The inquest was adjourned until Thursday.