Castlebeck care 'concerns' raised by regulator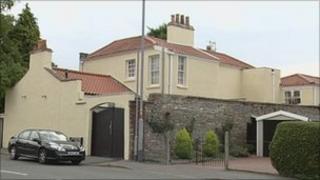 There are "serious concerns" about care at four Castlebeck-run services for people with learning difficulties, the Care Quality Commission has said.
It named Croxton Lodge, Leicestershire; Rose Villa, Bristol; Arden Vale, West Midlands; and Cedar Vale, Nottingham.
But the CQC said the problems it had found were not on the scale of those that led to the closure of Castlebeck's Winterbourne View home, near Bristol.
The company said it would "urgently address" the CQC concerns.
They included questions over training quality, levels of staff experience, inadequate governance reporting systems, a failure to include people in decisions about their care and a lack of interesting activities, Castlebeck said.
The care regulator launched an investigation following the closure of Winterbourne View after a BBC Panorama investigation had captured footage of some of its most vulnerable patients being repeatedly pinned down, slapped, taunted and teased.
Twelve people have been arrested and released on bail in connection with the alleged abuse, pending further inquiries.
'Demanded improvements'
In addition to the four locations providing serious concerns, a further seven hospitals or care homes run by Castlebeck do not fully comply with essential standards of quality and safety, said the CQC report.
Twelve Castlebeck-run services were found to be compliant.
The commission said it could not comment on the specific concerns it had raised.
CQC chief executive Cynthia Bower said: "Our inspections have found a range of problems, many of which are found in a number of different services.
"This clearly suggests that there are problems that Castlebeck needs to address at a corporate level - the company needs to make root-and-branch improvements to its services and processes."
She said the commission had demanded improvements and where it had immediate concerns about people's safety it had taken action, such as closing Winterbourne View.
Prime Minister David Cameron called on the CQC to take a tough stance with home operators.
"If care home providers aren't up to shape then they should be properly criticised and have those homes taken away from them," he said.
'Zero tolerance'
The BBC learned in July that four members of staff had been suspended at Rose Villa, a nine-bed rehabilitation centre in the Brislington area of Bristol, following allegations of misconduct.
Castlebeck chief executive Lee Reed acknowledged some of its services had "not met the high standards we would expect to achieve" and apologised to those affected.
"We are committed to addressing all of these shortcomings as a matter of urgency."
He said an internal review was being carried out and that action had already been taken.
"The safety and well-being of people in our care will always be of paramount importance to us and we will have a zero tolerance policy towards inappropriate behaviour directed against those who use our services."
The company remained "deeply sorry" for events at Winterbourne View, added Mr Reed.
The chief executive of charity Mencap, Mark Goldring, said: "These types of facilities... have been used by the authorities as a dumping ground for more vulnerable adults.
"These hospitals should only be used when they are really needed for assessment and treatment. For most people, smaller, local services, which are built around the needs of the individual, are more suitable."
Helga Pile from the public service workers union Unison said a review into elderly care in England by the Department of Health "must lead to a properly-resourced regulation and inspection system and tougher standards on workforce training and support".
Care Services Minister Paul Burstow said the government was working to ensure such a situation did not emerge again.
He told the BBC it was working with the local councils and the local NHS who arrange placements "to make sure that they're now taking the necessary steps to assure us that they are safeguarding the welfare of people living in these institutions".