Terror suspect control order upheld by High Court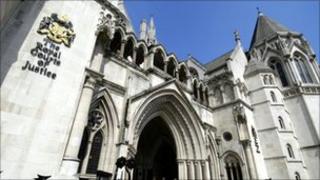 The High Court has upheld a decision to impose a control order on a terror suspect who was banned from London.
The judge said he was satisfied there were reasonable grounds for suspecting the man was a leading figure in a network of Islamist extremists.
The man, known as CD, was alleged to have been involved in planning attacks involving firearms in London.
The terror suspect, who has UK-Nigerian nationality, was appealing against the home secretary's decision.
The father-of-two has denied being involved in terrorism.
The control order restricts CD's freedom and bans him from London.
'Criminal associates'
During the hearing, an MI5 officer, testifying behind a curtain to protect his anonymity, confirmed that CD lived in Syria for three years where he received "extremist training" but he said he could not divulge in open court where, when, or what form this took.
The officer also said that in 2004 CD was "strongly assessed" by the security service to have been at a terror training camp in Cumbria in 2004 and had tried to buy firearms from criminal associates when he returned from Syria in 2009.
Written statements before the judge suggested that also at the camp were four men who unsuccessfully attempted to explode rucksack bombs on the London Underground on 21 July 2005.
Court papers show that the control order was imposed to "restrict CD's ability to meet with his associates TM and MS in order to further the group's attack plans, his ability to procure firearms and his ability to carry out an attack in this country."
Lawyers for CD said the security assessments were flawed and that the control order itself, which was imposed in February, was causing "disproportionate" distress to CD's family.
However the judge ruled that the restrictions imposed on CD's freedom, including the decision to relocate him from London to a midlands' city, were a "necessary and proportionate measure for the protection of the public from the risk presented by CD and his associates".
London Mayor Boris Johnson said: "It's clear from the court papers that he rejects and would like to destroy everything that makes this a great city. We don't want this man in London."
The Home Secretary was ordered at an earlier court hearing before a different judge to contribute to the cost of visits to CD by family members who remain living in London.
The relocation powers under control orders are being ditched by the coalition under new terrorist prevention and investigation measures (TPIMs).
Shadow home secretary Yvette Cooper told the House of Commons that plans to water down control orders would mean that CD could no longer be stopped from living in the capital.
Mr Johnson recently called on ministers to "think again".
A Home Office spokesman said: "The new regime of TPIMs will mean suspected terrorists who were unable to be prosecuted cannot go freely about their terrorism-related activities, and we will continue to be able to protect the public from the threat they pose."