Libya taunts UK over rebel leader death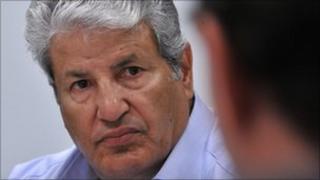 Libya's government has taunted the UK over the death of rebel military commander General Abdel Fattah Younes.
It has been claimed the former Libyan government minister was shot by an Islamist militia linked to the rebels.
A Libyan government spokesman said the incident showed the UK government had made a mistake by recognising the rebel council as the sole authority in Libya.
He said it was "a nice slap to the face of the British" that the rebels were unable to protect their army chief.
On Saturday, the rebels' Oil Minister, Ali Tarhouni, told reporters in Benghazi that a leader of the Obaida Ibn Jarrah Brigade had provided information on the circumstances of Gen Younes's death.
But he did not provide a motive for the killing, which he said was still being investigated.
On Wednesday, UK Foreign Secretary William Hague said the UK would recognise the Libyan National Transitional Council of the rebels as the "sole governmental authority", as it expelled Gaddafi-regime diplomats from the UK.
Gen Younes and two aides were killed by gunmen after being recalled from the front line of fighting.
Hundreds of mourners carried a coffin containing the general's body into Benghazi's main square on Friday.
Col Muammar Gaddafi's government in Tripoli said the killing was proof the rebels were not capable of ruling Libya.
'Nice slap to face'
Government spokesman Moussa Ibrahim said: "It is a nice slap to the face of the British that the council that they recognised could not protect its own commander of the army."
Speaking before Mr Tarhouni's comments, Mr Ibrahim suggested Gen Younes had been killed by al-Qaeda and repeated a claim that the group was the strongest force within the rebel movement, which is based in the east of the country.
"By this act, al-Qaeda wanted to mark out its presence and its influence in this region," he said.
"The other members of the (rebel) National Transitional Council knew about it but could not react because they are terrified of al-Qaeda."
Gen Younes - a former interior minister who had served at the heart of Col Gaddafi's regime since the 1969 coup - joined the rebels at the beginning of the Libyan uprising in February.
On Wednesday, the Libyan charge d'affaires in the UK was called to the Foreign Office to be told he and other diplomats must leave.
Instead the UK will ask the National Transitional Council to appoint a new diplomatic envoy.
It follows similar moves by the US and France. The UK had previously said it recognised "countries not governments".
Meanwhile, Nato said a "precision air strike" had disabled three Libyan state TV satellite transmission dishes.
Nato said the operation was intended to stop "inflammatory broadcasts" by Col Gaddafi's regime.