Jenson Button injury hoax story removed from his site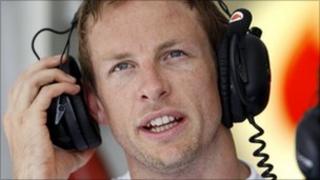 Hackers who posted a story on Jenson Button's official website claiming he had been seriously injured in a car crash carried out a "distasteful hoax", his spokesman has said.
The story appeared on Saturday night saying the F1 driver was in a "critical condition" in hospital following a "serious accident" in Hungary.
The website was taken down soon after the post emerged.
Button later said on Twitter that he was "completely fine".
The British driver tweeted on Sunday: "Morning everyone I'm sure you've realised by now but someone hacked into my website last night, I'm completely fine and on my way to #200 (his 200th Grand Prix)."
Button added: "The guy who did it obviously didn't have any better offers on a Saturday night so stayed home to do that instead #getsomefriends."
A spokesman for the McLaren driver said a hacker had breached the site's security and added: "The story is completely untrue and is a very distasteful hoax.
"The website was immediately taken down and its security will now be reviewed. Jenson was asleep in bed when we were made aware that someone had hacked into his site and made the untrue claims.
"We can assure people that he is completely fit and healthy and will be taking part in today's race."
The hacker had posted the story on www.jensonbutton.com and his representatives were made aware just after 23:30 BST on Saturday.
They later posted an explanation of what had happened, adding to Button's fans: "We can only apologise for any alarm this may have caused."
Button, 31, and his team are in Hungary for Sunday's Formula One Grand Prix, in which he will start third on the grid.