'Shock' at police drink-drive campaign results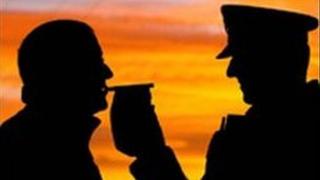 A police campaign against summer drink-driving caught a higher proportion of motorists driving under the influence compared to last year.
The June crackdown in England, Wales and Northern Ireland saw a drop in the total number of drivers stopped.
But there was an 8% rise in positive, refused or failed breath tests, said the Association of Chief Police Officers (Acpo).
Road safety campaigners said the results were "shocking".
In total police stopped 88,629 motorists, of whom 5,373 or 6.06% tested positive, refused or failed a breath test, compared to 5.6% last June - an 8% rise.
There was an increase in the proportion of under 25-year-olds testing positive, by 15% compared to 2010. The number of over 25-year-olds who tested positive rose by 7%.
Those driving under the influence of drugs were also targeted in the campaign, with a 30% increase in tests (259 to 337), resulting in 122 arrests.
Acpo's road policing lead Chief Constable Phil Gormley said the increase in the percentage of positive drink-driving tests showed they were targeting the offending drivers more effectively.
"Once again, the figures clearly demonstrate that if you drink and drive you are significantly more likely to be involved in a collision and lose your licence. It is worrying that younger drivers continue to drink and drive and we will be redoubling our efforts to address this unacceptable behaviour."
He added that they were working with the government on reformed legislation and procedures to tackle drug-driving.
'Untenable situation'
Road safety campaigner charity Brake said the figures were "shocking".
Ellen Booth, senior campaigns officer, called for a "zero-tolerance" drink-drive limit: "At the moment the public is effectively being asked to guess if they are over an arbitrary limit and breaking the law. It's an untenable situation."
Drivers' organisation the Automobile Association said it was "surprised and disappointed" at the increase, particularly among younger drivers.
AA president Edmund King said with polling suggesting drivers had cut back on journeys and eating out, they expected a reduction in drink-driving.
"It appears that there is still a hardcore of drivers willing to risk life, limb and their licence by continuing to drink-drive."