Crimestoppers hunts UK's most-wanted fraudsters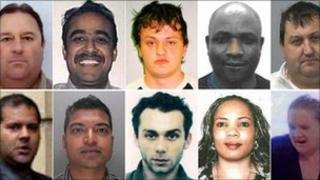 An appeal has been launched to track down the UK's 10 most-wanted fraudsters.
The charity Crimestoppers says the suspects are responsible for at least £200m of fraud between them.
They include a man who allegedly posed as the brother of comedian Peter Kay and claimed to be raising money for a young cancer victim.
A live-in carer suspected of stealing £35,000 from a vulnerable woman in her 80s also features on the list.
'Not victimless'
Peter Stead, 48, is accused of conning pub landlords in Derbyshire out of thousands of pounds in 2009 by claiming to be an entertainer and the brother of Peter Kay.
He was allegedly given cash in return for agreeing to put on comedy fundraising nights, but failed to turn up.
Jascent Nakawunde, 33, also known as Tania Bird, is accused of stealing cheques from the elderly woman she was paid to care for.
Other faces on the wanted list include:
Nasser Ahmed, 38, who was jailed for six years in his absence for his part in a £156m VAT fraud in Bristol
Mohamad Khan, 29, from Waltham Cross, north-east London; he is accused of using counterfeit credit cards to buy more than £100,000 of goods
Nicholas Slocombe, 28, who is suspected of collecting money from dozens of shops and businesses for non-existent charities
Kevin Leitch, 48, from Liverpool, who allegedly took bookings for a holiday property in Cornwall, often accepting payments of more than £1,000, but then cancelling just days beforehand and keeping the money
The founder and chairman of Crimestoppers, Lord Ashcroft, urged anyone with information to call 0800 555 111 or to visit www.crimestoppers-uk.org to report it.
"This is not a victimless crime," he said.
"Every single one of us is paying higher taxes, bank charges and insurance fees because of fraud.
"The amount of fraud against the public purse is around £27bn a year. This is equivalent to 30% of the estimated national education budget for 2011/2012."
He added: "Serious fraudsters often operate as part of gangs and fraud is just one of their business streams.
"This can result in the funding of drugs and people trafficking, which causes real harm to many."