7/7 survivors abandon public inquiry bid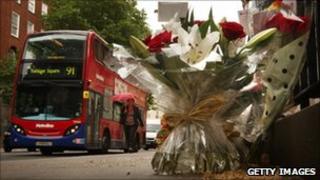 Survivors and relatives of those killed in the 7 July bombings in 2005 have dropped their legal bid to force the government to hold a public inquiry.
The group said the five-month inquest earlier this year into the attacks had been "thorough" and an inquiry would cause further "unnecessary distress".
Fifty-two people died when three Tube trains and a bus were bombed in London.
An inquest found they were unlawfully killed and rejected claims security agency failings caused their deaths.
But it did criticise MI5's record-keeping and use of surveillance photos.
The group's lawyer, Clifford Tibber, confirmed they were abandoning their 2007 application for judicial review of the then Home Secretary John Reid's decision not to hold a public inquiry.
He said the 25 claimants agreed that the inquest, which concluded in May, had covered many aspects of the role of the emergency services and MI5.
While there were matters which High Court judge Lady Justice Hallett, who presided over the inquest, was unable to explore, the failings she identified were being addressed, he added.
"Any inquiry into those matters into which the coroner has inquired would cause further unnecessary distress to the bereaved families, those that survived and the individual members of the emergency services who attended the scenes," he said.