Britons donate £42m for East Africa drought aid appeal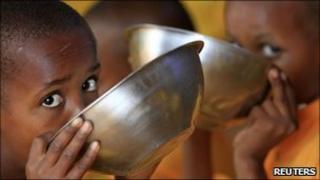 The British public has donated £42m for victims of the devastating drought in East Africa, UK aid agencies have said.
The Disasters Emergency Committee (DEC) launched an appeal just over three weeks ago after the worst drought in the region for 60 years.
The DEC, representing 14 UK aid groups, said the response was a "wonderful example of public concern".
It said 10 million people in Ethiopia, Kenya, Somalia and South Sudan were in need of food, water and healthcare.
'Escalating crisis'
More than £1m of the money raised so far had been donated by mobile phone text messages, the DEC said.
DEC chief executive Brendan Gormley said: "To raise £42m in just over three weeks is a wonderful demonstration of public concern for those in need.
"We can't lose sight of the fact, however, that this is an escalating crisis. It is now for the UN to act and for governments worldwide to dig deep to alleviate the suffering."
Famine has been declared in two regions in Somalia as a result of the crisis, and the DEC said other areas were expected to follow.
Peanut paste
The drought has devastated livestock and crops, and a poor forthcoming harvest is expected to make matters worse.
Aid parcels containing half a million sachets of food were flown out of the UK headed for Somalia on Tuesday.
They left Heathrow on a commercial flight bound for Nairobi in Kenya before being driven by lorry to the areas of Lower Shabelle and Bakool in south Somalia.
The boxes, sent by children's charity Unicef, also have medical supplies and equipment to gather fresh water.
The sachets include a peanut paste called Plumpynut which can be digested easily by starving children.