Foreign Office reports fall in Britons arrested abroad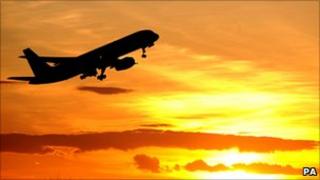 The number of Britons arrested overseas fell 10% last year, according to Foreign Office figures.
There were 5,700 arrests in the 12 months ending March 2011, down from 6,439 in the previous year, and drug offence arrests fell nearly 20% to 799.
However, the number needing hospital treatment rose in 2010/11 despite a dip in the number of visits abroad.
Minister for Europe David Lidington said it was encouraging to see a decrease in the number of arrests.
The British Behaviour Aboard report also revealed that the number of Britons raped abroad was down from 132 in 2009/10 to 115 in 2010/11.
However, sexual assaults increased from 140 to 163 over the same period.
And there were 25,969 cases of lost or stolen passports in the last year, compared with 27,272 in the previous 12 months.
According to the figures, 19,228 Britons needed consular assistance abroad in 2010/11 compared with 19,839 the year before.
The Foreign Office statistics, which also relate to Britons living abroad, also showed that in the last year Spain had the highest number of Britons arrested, at 1,745.
Spain also emerged as the country in which the most Britons required consular assistance. Some 4,971 people found themselves needing help.
However, proportionately, Britons were most likely to be arrested in Thailand, where they were also most likely to need hospital treatment.
Mr Lidington said: "We work hard to warn British nationals about the consequences of breaking the law abroad so it is really encouraging to see the overall number of cases of arrests and drug arrests falling."
However, he pointed out that there had been 5,700 arrests of British nationals overseas in the last year.
He said: "Prison conditions in some parts of the world can be very poor, overcrowded and in some cases dangerous, and sentences can be much tougher than in the UK.
"People are mistaken if they think the Foreign Office can get you out of jail. We can't, but we will work hard to try and ensure your safety, and that you get a fair trial."
Meanwhile, a Foreign Office poll of 2,000 UK adults suggested that 43% of 18 to 24-year-olds know someone who has taken illegal drugs while abroad.
Expensive treatment
And two in three people do not always find out about the laws of the country they visit before travelling.
And nearly a third - 32% - of people are not aware that they will always be prosecuted under local law if they break the law abroad.
Some 6% of people thought they would be prosecuted under UK law, 22% believed it depends on the country they are in and 4% admitted to not knowing at all.
Medical treatment abroad can be expensive and the Foreign Office has urged people to take out a comprehensive travel insurance policy before travelling, to avoid large bills if they suffer from an illness or have an accident.
The British Behaviour Abroad figures were released as part of the Foreign Office's Know Before You Go campaign which encourages Britons to prepare for their foreign travel so they can avoid preventable problems.
The Foreign Office also posted a video on YouTube showing the location of thousands of incidents involving British nationals abroad over a 24-hour period.