No plans to quiz Piers Morgan, committee chairman says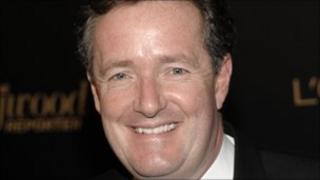 There are no plans to call ex-Mirror editor Piers Morgan or Mirror Group executives to face MPs' questions over Heather Mills' phone-hacking claims, the media committee chairman has said.
Tory MP John Whittingdale said he hoped Mr Morgan would return to the UK to answer "some very serious questions" but he could not compel him.
Ms Mills has alleged a Mirror Group journalist admitted hacking voicemails.
Mr Morgan has consistently denied any involvement in hacking.
The parent group of Mirror Group Newspapers, Trinity Mirror plc, says all its journalists work within the law.
The senior journalist referred to by Ms Mills is known not to be Mr Morgan.
Since Ms Mills' allegations were reported on Wednesday, several MPs have called for Mr Morgan to return from the US, where he now works for CNN as a chat-show host, to answer questions.
Tory MP Therese Coffey, a member of the culture, media and sport select committee which is investigating phone hacking, said she felt Ms Mills' allegations were "very strong".
Mr Morgan needed to explain an article in 2006 in which he admitted having listened to the recorded message, she said.
"I just hope that the police take the evidence and go with it and if Mr Morgan wants to come back to the UK and help them with their inquiries, and I don't mean being arrested in any way, I'm sure he can add more light," she said.
Ms Coffey also said Ms Mills should have reported the incident to the police at the time.
The select committee's chairman John Whittingdale said: "What Therese Coffey has said is absolutely right - I would like to see Mr Morgan come back to this country and answer what are some very serious questions."
He said the committee did not have the power to compel people to return to the UK to face questions.
"Now he may return to the UK, I hope he will return to the UK and I imagine that there will be some questions which will be put to him, possibly by the police on the basis of the evidence that has emerged," he said.
"But at the moment, we can't do that."
He added that he thought the committee would want to talk about it when they next met, but their focus was on whether it had been misled by previous witnesses from News International.
He also insisted the police investigation had to be the priority.
Labour's deputy leader Harriet Harman has also told Sky News Mr Morgan has "questions to answer" over the claims, while Labour MP Jim Sheridan said it would be "helpful if he could clear up these allegations".
On Twitter, Mr Morgan wrote: "So heart-warming that everyone in UK's missing me so much they want me to come home. #swoon."
On Wednesday, Ms Mills told BBC Newsnight that in early 2001 she had had a row with her then-boyfriend Sir Paul McCartney, who later left a conciliatory message on her voicemail while she was away in India.
According to Ms Mills, afterwards a senior journalist from Mirror Group Newspapers rang her and "started quoting verbatim the messages from my machine".
Ms Mills said she challenged the journalist about phone hacking, and they responded: "OK, OK, yeah we did hear it on your voice messages, I won't run it."
The message in question appears to be the same as one which Mr Morgan admitted to having listened to in a Daily Mail article in 2006.
If Ms Mills' recollection is correct, the call Mr Morgan listened to had been hacked, and a fellow Mirror Group Newspapers journalist had tried to use it to get a story.
Mr Morgan was the Mirror's editor between 1995 and 2004 and also edited the News of the World between January 1994 and November 1995.
In a statement issued on Wednesday, he said Ms Mills' claims were "unsubstantiated", adding: "To reiterate, I have never hacked a phone, told anyone to hack a phone, nor to my knowledge published any story obtained from the hacking of a phone."
Mirror Group Newspapers is part of Trinity Mirror plc, which publishes over 260 titles including the Daily and Sunday Mirror, Daily Record and People.
Trinity Mirror responded to the allegation by saying: "Our position is clear. All our journalists work within the criminal law and the PCC [Press Complaints Commission] code of conduct."
Paul Connew, a former Sunday Mirror editor and former Daily Mirror deputy editor, said he did not believe Mr Morgan was involved in hacking, but he could help the inquiry.
"Obviously Piers does need to answer how he came to hear the messages, he wrote about that himself in the Daily Mail.
"At some point I'm sure as a senior media figure and former editor he will be asked to appear before the judicial inquiry, the Leveson Inquiry, but he probably doesn't feel he's under any obligation to head back here unless summoned to do so," he said.
Private investigators
Meanwhile, the BBC has been investigating the Daily Mirror's employment of a controversial firm of private detectives, Southern Investigations, during the 1990s. The company's boss Jonathan Rees was jailed in 2000 for conspiring to plant cocaine on an innocent person.
One invoice sent to the Daily Mirror in August 1998 was for £174 for supplying a mobile phone number and the pin number for accessing voicemails. The phone's owner is not known - and phone hacking was not illegal until 2000.
In other developments:
Conservative MP Louise Mensch, who sits on the Commons culture, media and sport committee, has tweeted that she thinks an amnesty would be a good idea. She has also called for "a massive industry fund" to compensate hacking and blagging victims.
So far, most of the revelations surrounding phone hacking have centred on the News of the World, which was published by News Group Newspapers, part of Rupert Murdoch's News Corporation, until the paper's closure last month.
The prime minister has launched a judge-led inquiry into phone hacking and the ethics of the press.