Drink-drive deaths fell in 2010, figures show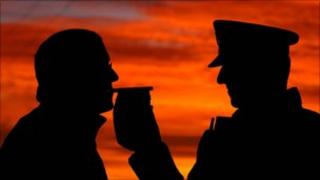 The number of people killed in road accidents caused by drink-driving fell sharply last year, provisional government figures show.
Deaths fell by 35%, from 380 in 2009 to 250 in 2010, while serious injuries fell by 18% to 1,230.
Minor injuries fell by 19% to 8,220, the Department for Transport added.
The provisional statistics are based on road accidents reported to police across Great Britain, involving drinking and driving in 2010.
Transport minister Norman Baker welcomed the fall in drink-driving deaths - which he said was 83% lower than 30 years ago.
"However, we are determined to continue to take firm action against the small minority of drivers who still ignore the limit.
"That is why we are taking forward a package of measures to streamline enforcement against both drink and drug-driving - including approving portable evidential breath testing equipment and drug testing devices which will speed up the testing process and free up police time," he said.
Provisional casualty figures for all types of accidents for British roads for the first three months of 2011 have also been published by the Department for Transport.
Heavy snowfall
In the period January to March, there were 440 deaths, 6% more than in the same period in 2010 when severe weather kept many people off the roads.
Cyclist casualties also rose by 26%, while motorcyclist casualties increased 16% and pedestrian casualties were up 4%. The number of casualties involving people travelling in cars fell 7%.
Road traffic was estimated to have increased 1.8% in the first three months of this year compared with the same period last year.
The DfT said the increased levels of traffic and accidents in the first quarter of 2011, relative to 2010, were likely to be influenced by the heavy snowfall in the first quarter of 2010.
"The number of road traffic accidents in the first quarter of 2010 was reduced compared to previous and subsequent years," he said.
Professor Stephen Glaister, director of the RAC Foundation, welcomed the fall in drink-drive figures, but said they "sit at odds with the revelation earlier this week that police caught more drink-drivers - especially young motorists - in the summer 2011 crackdown than in 2010".
"It shows that the battle to combat drink-driving is never over and every new generation of drivers needs to be made aware of the dangers," he said.
AA president Edmund King said: "Whether the fall in drink-drive road deaths is due to the effects of two severe winters and the economic downturn, or a reflection of a major change in attitudes to drink-driving will only be seen over time.
"The increase in road deaths in the first quarter of 2011 is not totally unexpected. In early 2010, Britain was paralysed by snowfall, but this didn't happen in 2011.
"However it is a reminder that road accident data does not always go down, and that we cannot rely on past performance for future success."