Agricultural theft on the rise, says rural insurer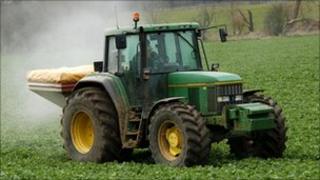 Theft is estimated to have cost the UK farming industry £49.7m in 2010, a major rural insurer says.
NFU Mutual said "agri-crime" on Britain's farms has risen from £41m in 2009, with power tools the most stolen item in 2010.
Thieves were most likely to strike at night and raid outbuildings, it said.
The NFU Mutual Rural Crime Survey (RCS) was based on the 2010 claims experience of its branch offices in rural towns and villages.
It found that two-thirds of branches had reported an increase in rural crime in their area.
In England, theft cost farmers £42.8m in 2010, up 26% on the previous year.
In Scotland, the cost of such claims had risen by 57% since 2009, to £1.4m, while in Northern Ireland it had risen by 28% to £3.8m.
But in Wales, the cost was £1.7m - down by 48% from the previous year.
The survey found that power tools such as chainsaws, electric drills and lawnmowers topped the most stolen items list in 2010.
While thieves tended to target farms and businesses during broad daylight to steal tractors, heating oil, scrap metal and livestock, 59% of branches said the most common time of day for thieves to act was between midnight and 0600.
'Vigilance'
Nearly 60% said thefts from farms or outbuildings was the biggest problem, while 12% said garden sheds and garages attracted thieves.
When asked about the main reason thieves target the countryside, 41% of branches said the sparse area made it difficult to police, while 32% claimed there was less chance of thieves being seen.
Nearly a quarter of branches thought relaxed attitudes towards to security measures could also be a factor.
Lindsay Sinclair, chief executive of NFU Mutual, said: "Whether it's the recession, tighter security in towns, or the rise in oil, meat and scrap metal prices countryside people are feeling the blight of rural crime on their land.
"However, country people are not taking this scourge lying down.
"We've already seen that by working with the police forces and manufacturers, tractor theft and organised rural crime can be tackled head-on. A united front against crime in the countryside will help to protect communities from being targeted further with vigilance as the watchword."
The survey included claims for crimes against homes, farms, commercial premises and vehicles. A total of 272 of a possible 324 responses were received from NFU Mutual's branch network.