Marine dies in checkpoint attack in Nad-e Ali, Afghanistan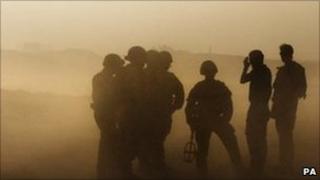 A Royal Marine has been killed in Afghanistan's Helmand Province after a grenade was thrown into a checkpoint, the Ministry of Defence has said.
The marine died in hospital at Camp Bastion following the attack in the Nad-e Ali district on Friday morning. His next of kin have been informed.
His death takes the total number of UK military deaths in Afghanistan since operations started in 2001 to 378.
The MoD said the marine was on a foot patrol that was fired on by insurgents.
Spokesman for Task Force Helmand, Major Rolf Kurth, said he was part of a patrol "deployed to reassure local residents, and deter and disrupt insurgent activity, when they came under small arms attack".
Maj Kurth added: "With the help of mortars and close air support, they broke contact with the insurgents and returned to their checkpoint.
"They then came under further attack, and the Royal Marine was mortally wounded by a grenade that landed inside the checkpoint."