News of the World staff offered 'enhanced redundancy'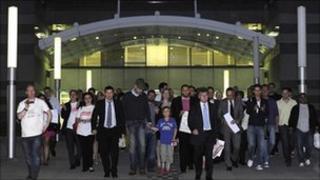 Former News of the World staff are being offered "enhanced redundancy terms" if they leave before the end of the current 90-day consultation period.
The terms include a 25% increase on redundancy pay, gardening leave pay until 6 October, and a 2-3% pay rise.
News International Staff Association told its members it was "a significant improvement on the original offer".
The company had previously said the consultation aimed to redeploy some of the 200 or so staff to other titles.
However, some employees have criticised the redeployment positions as being non-editorial or involving a move abroad.
The current 90-day consultation period is the minimum statutory obligation for an employer making more than 100 employees redundant.
In an email, the staff association said it had reached an agreement with management whereby employees would now be entitled to a 25% increase on redundancy pay or £5,000 - whichever is greater.
Pay rise and bonus
All employees would also be "uprated", giving "a rating of 4 for every member of staff, which means a 2.5% pay rise plus a £1,000 bonus."
It also said: "Staff who have a recorded rating of 5 will get 3% pay rise and £1,400 bonus."
NoW staff are being spoken to individually about their future and last month Rebekah Brooks - the former head of News International - told the culture, media and sport select committee that it would try to redeploy every employee.
"We have endeavoured to find them jobs - every single one of them will be offered a job," she said.
The News of the World published its last edition on 10 July in the wake of the phone-hacking scandal.
Rumours have circulated that News International will launch another Sunday tabloid, dubbed the Sun on Sunday, but News International chairman Rupert Murdoch and James Murdoch, his deputy chief operating officer, have said there are "no immediate plans".