Newspaper review: Economic concerns dominate papers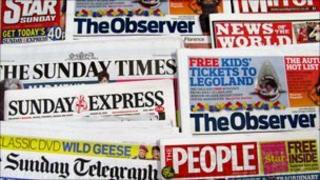 The threat of a global economic crisis dominates Sunday's newspapers.
"It's up to the leaders of debt laden countries to act decisively," argues the Sunday Express.
According to the Sunday Telegraph, the downgrading of the US's credit rating is expected to be followed by a warning this week from the Bank of England that growth will be slower than forecast..
And the Observer talks of "world leaders battling to prevent panic spreading across financial markets"..
The Independent on Sunday says Gordon Brown has "broken his silence" and blamed Angela Merkel and Nicholas Sarkozy for Europe's economic woes.
In an article for the paper, the former prime minister says the eurozone leaders ignored his warnings over their banks' debt levels.
And the Mail on Sunday, asks: "Will the world's last communist state now have to bail out the capitalist West?"
Referring to China, it says: "Power is shifting inexorably to the East."
Several papers describe the heroism of the tour guide who killed a polar bear which mauled a British student to death in Norway.
The Sunday Express describes how Michael Reid stopped the bear by aiming one perfect shot at its heart.
And the Sunday Times features a special tribute to the boy who died - Horatio Chapple - by his parents, David and Olivia, as well as his grandfather.
They say Horatio was a generous, kind and fearless young man.
Ahead of the start of the top flight football season, the sports pages are full of details about Premier League footballers.
The Sunday People reports that Manchester City are "sparking a transfer war" with Manchester United over Dutch footballer Wesley Sneijder.
The Sunday Express calls the attempt to lure the player a "sneiky trick".
Meanwhile, Cesc Fabregas will "pay to leave Arsenal", reports the Mail on Sunday on its back page.