London riots continue to dominate papers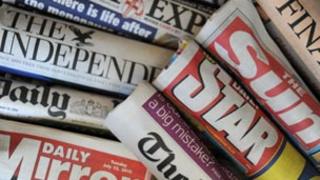 Two images of the riots in London feature on many of the front pages.
One shows a man, wearing a hood with a mask to cover his face, walking in front of a car burning out of control.
The other is of another masked rioter, carrying a can of strong lager, as he walks past a burning car.
The Daily Star sums up the violence with the headline: "Anarchy in the UK." The Daily Express opts for "Flaming Morons", and the Daily Mirror calls it "Yob Rule".
The Independent's take on the riots in London is that it is "mob rule", with the police and politicians powerless.
Meanwhile, the Sun insists the violence has nothing to do with the protests about the shooting of Mark Duggan last Thursday.
The paper says the unrest has been anarchy, pure and simple.
The looting is the Daily Mail's focus, with the paper showing a young boy in Peckham on a bicycle carrying a basket of goods taken from a Tesco store.
One shopkeeper in Hackney, whose premises were looted, asks the Times: "Where are the police?"
It says his frustration and fear were echoed across the city as the police seemed powerless to prevent looting.
The Guardian says Scotland Yard has introduced special powers in some areas to allow people to be stopped and searched without reasonable suspicion.
But it notes that their use in Hackney reportedly sparked the violence which hit the area during the afternoon.
Claims by ex-London Mayor Ken Livingstone that cuts being imposed by the government are to blame for civil unrest are rejected by the Daily Mail.
Such an idea, it maintains, is immoral and cynical.
The Independent thinks it is spurious to draw a connection between disaffection and the outbreaks of violence in recent days.
However, the Guardian feels it is a product of the lives which the rioters choose or feel constrained to live.