England riots: Minsiters pledge cash for communities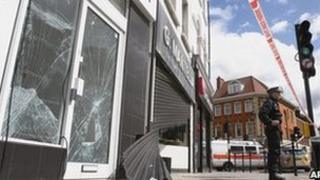 A multi-million pound support package for businesses and families affected by the riots has been announced by the prime minister in the Commons.
The one-off measures include a £20m High Street support scheme to help firms get back on their feet and a £10m recovery fund to repair damaged areas.
Seriously damaged homes and shops will also be temporarily exempt from paying council tax or business rates.
People made homeless will also be helped with the cost of accommodation.
Communities Secretary Eric Pickles said the extra central government funding would be made available as quickly as possible and would be distributed by local councils.
"Our priority is to get local communities back on their feet, get businesses up and running again and make sure nobody is left without a roof over their head," said Mr Pickles.
"We are making immediate financial support available to those that need help and we will continue to work closely with councils."
The £10m recovery fund aims to make areas safe by clearing up debris left by the riots and making immediate repairs to pavements and roads.
The money can also be used to support councils who choose to give council tax discounts to people whose homes are damaged but still habitable.
Seriously damaged properties however, will be taken off valuation lists and become temporarily exempt from council tax and business rates. The communities secretary said relief from the taxes should be given as soon as possible.
Businesses and shopping areas will also be helped to start trading again and meet short-term costs through a "flexible" £20m High Street support scheme - a pot of money that will again be made available immediately.
Councils will decide how to distribute the money and could use it to reduce business rates, pay for building repairs, help firms replace equipment, or encourage shoppers back to affected areas.
Families forced from their homes will also get their emergency accommodation costs paid, although this will be met by existing homelessness funding schemes,
Full details on the new funding will be announced within the next week.
In addition to the extra money announced on Thursday, people can also seek compensation from the police or their local authority under the Riots Damages Act - even if uninsured.
Prime Minister David Cameron told MPs the window for such claims was being extended from 14 to 42 days.