Newspaper review: Riots fallout continues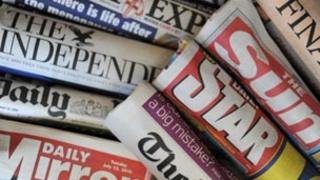 Almost every front page continues to pick over the fallout from this week's outbreak of riots and looting.
The Daily Mirror reports a plea from a mother who turned in her own daughter.
Under the headline "Shop Your Child - it hurts but it's right", Adrienne Ives urges parents in her position to do the same thing.
The Times leads with a judge demanding to know why the mother of a 14-year-old girl facing looting charges had not accompanied her to court.
The Guardian says judges have been warned not to dispense "rushed" justice as courts sit through the night. A senior member of the Law Society raises concerns about the hearings' fairness.
The Daily Telegraph calls the rioters the "children of Tony Blair". Peter Oborne blames the disorder on a "toxic" New Labour benefits system which trapped many in unemployment - denying them "hope or self-respect".
Council tenant evictions
The spat between police and politicians is widely reported. The Independent claims police of all ranks are turning on the government after ministers criticised their handling of the riots.
The Daily Mail reports how Wandsworth Council in west London has become the first authority to try to evict a rioter from their council home.
Meanwhile the Sun has an interview with the Polish mother photographed leaping from a building in Croydon as a neighbouring shop went up in flames.
In other news, the Telegraph says files at the Libyan embassy could shed new light on the alleged death of Col Gaddafi's baby daughter in a US air strike in 1986. Documents reportedly suggest she survived and was treated by a British dentist in 2008.
University place pressure
The Telegraph and Mail say students are facing an unprecedented scramble for university places this autumn. Demand is at record levels because students want to get places before the rise in tuition fees.
The Independent warns universities will have another headache because the number of A* grades has hit 10%, making it hard to identify the brightest students.
The Daily Express reports the discovery of a 200-year-old cook book containing the first known curry recipe in English. It is said to be remarkably similar to modern chicken curries.