Dangerous Dogs Act change urged by Blue Cross charity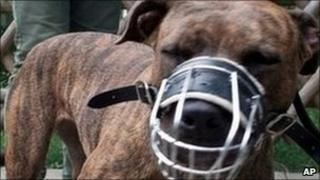 Legislation designed to protect people from attacks by rogue dogs needs to be overhauled, an animal charity has said.
The Dangerous Dogs Act was introduced by Parliament 20 years ago after a vicious attack on a young girl.
The Blue Cross charity says the law is not working and it is time to shift the emphasis away from certain types of dog and place responsibility on owners.
The government has said it will make an announcement soon on measures for dealing with dangerous dogs.
Serious injuries
The Dangerous Dogs Act 1991 in England, Wales and Scotland banned the ownership of four types of dog bred for fighting.
The outlawed types are the pit bull terrier, Japanese tosa, dogo argentino and fila brasileiro.
The act came into force in August 1991 after a dog attack in Bradford on six-year-old Rukhsana Khan which left her with serious injuries.
But the Blue Cross said the legislation was still failing to protect children 20 years after being brought in.
The charity said that just last week a seven-year-old boy was mauled by a rottweiler in Essex.
The charity's chief vet Richard Green told the BBC: "Twenty years is a long enough time to see if a law is working or not, and that's the amount of time it's been around - and clearly it's not because we're still seeing large numbers of dog attacks.
"There's still a public safety issue here and I don't think that over those last 20 years that we've seen any improvements at all.
Owner responsibility
"The emphasis needs to change from certain breeds - which is what it is at the moment, just four of these banned breeds - to the people on the other end of the lead.
"Dog owners should be held responsible for the actions of their dogs, and they are largely responsible for the way their dogs grow up to behave.
"Any dog potentially can be dangerous, and conversely any dog potentially can be a safe and loving pet. Therefore the focus of the law and the emphasis needs to change from the dog to the owner."
The Blue Cross is backing a new Dog Control Bill proposed by Liberal Democrat peer Lord Redesdale.
The bill will be considered by the House of Commons following its third reading in the Lords after the summer recess.
The Department for Environment, Food and Rural Affairs (Defra) carried out a consultation on the issue of dangerous dogs last year and published the responses in November.
A Defra spokesman said: "Dangerous dogs and tackling the problem of dog attacks are very serious issues, and we're working with the police and welfare groups on the best possible measures for dealing with them. We'll make an announcement soon, but no decisions have been made yet."