Newspaper review: Growing divide over riot response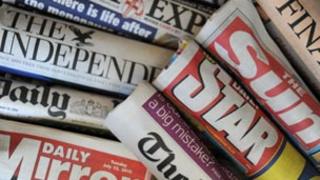 The fallout from last week's riots - and the tensions between police and government over how they were handled - continues to be widely covered.
The Guardian reports that cross-party political unity over the response to the looting is crumbling.
The Independent also highlights a growing divide in the political response to the riots.
It says David Cameron is blaming children without fathers and schools without discipline - while Ed Miliband is accusing bankers and MPs of failing to set a better example for society.
But how the riots were tackled is not the only source of disagreement between the government and police.
The Sun says police chiefs have mounted a new revolt against plans for former US 'supercop' Bill Bratton to advise British officers on tackling gangs.
Calling in Mr Bratton is just the latest insult from the Prime Minister, according to the Mirror.
But Libby Purves in the Times is more positive, arguing that Mr Bratton mixes firm tactics with a great deal of community outreach.
The Daily Express says mortgage costs could be about to plummet even further.
The paper says an average of £600 a year could be cut off annual repayments if the Bank of England takes borrowing down to a quarter per cent.
The Times says the contest for the US Republican presidential candidate is now a three-horse race after a weekend of entries, exits and promotions.
The Guardian says Tea Party favourite Michele Bachmann has hit the front after beating the moderate Mitt Romney to win an informal straw poll in Iowa.
The Financial Times argues the entry of hard-right Texas governor, Rick Perry, has invigorated an unexciting contest.
The Mail says many furious drivers abandoned their cars on Sunday as much of London was left gridlocked by an Olympic cycling test event.
Meanwhile the Independent reports that dozens of A-level candidates found out their results early because an exam board mistakenly opened its website to the public five days in advance.
Competition for university places will be especially intense in the coming weeks, suggests the Daily Telegraph, because tuition fees are set to rise in a year's time.