England riots: Mugged student Asyraf Haziq visits Westminster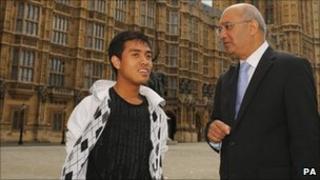 The Malaysian student mugged after he had been attacked by rioters in London has been taken on a tour of Westminster by a senior Labour MP.
Asyraf Haziq, 20, who was set upon less than a month after arriving in the UK, toured Parliament with Home Affairs Select Committee chairman Keith Vaz.
The committee is to probe last week's widespread disorder across England.
On Sunday, Mr Haziq met London mayor Boris Johnson at Wembley Arena, at the badminton world championships.
At Westminster, the student was joined by his father, mother and seven-year-old brother, who flew to the UK from their home near Kuala Lumpur after the attack.
Mr Vaz visited the student after seeing video footage of him being robbed by several men in Barking, east London, on 8 August after they initially pretended to help him.
He had his jaw broken in the initial assault and was robbed as he sat on the ground bleeding.
Mr Vaz said: "I didn't want that to be his lasting impression of London. This was exceptional and not in any way representative of our great city.
"He told me his mum and dad were flying out for a week to make sure he was all right, so I invited Ashraf and his family to the Commons."
Mr Haziq, who intends to continue his accountancy course in the capital, said: "I'm very honoured, it's great to be here and I like it very much."
Reece Donovan, 20, from Romford, Essex, has been charged with robbing Mr Haziq, and will appear at Wood Green Crown Court on Friday.