'I haven't slept since riots', Ealing pub manager says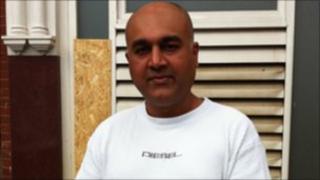 A week after rioters ransacked shops and set buildings ablaze in parts of London, many local residents and business owners are struggling with the task of moving on with their lives.
In Ealing Green, the evidence of destroyed buildings and damaged lives is all too apparent.
While some shops are open for business, many remain boarded up.
A burnt-out supermarket, which was set alight by looters in the early hours of Tuesday, is still partially covered by police cordons and scaffolding. Many of the flats above the supermarket remain uninhabitable.
"I am losing thousands of pounds a day. I'm living off my savings until the insurance money comes through - which I'm hoping will be in a couple of weeks' time - but it could be four to six months until we are able to reopen," says Ravi Khurmy, 40.
He is the owner of Local Supermarket, which suffered the worst of the local looting before it was set alight.
'Stuck in limbo'
"I'm absolutely gutted - thinking about it makes my heart sink," he says.
Zakar Hussain, 35, who owns the closed Green Mango cafe, which is next to the supermarket, is still struggling to come to terms with what has happened to the business he started only four months ago.
"I'm beyond upset - I put so much blood, sweat and effort into setting up this business, and now, through no fault of my own, it's totally destroyed," he says.
The former senior manager for a car rental company says he "gave up everything" to open the Asian-themed cafe and take-away, and invested in excess of £100,000 to get it off the ground.
"Now there is water everywhere from putting the fire out, soot everywhere, the whole place smells of burning. We've still got no electricity or gas," he says.
"I've spoken to my insurance company and I hope they are going to cover everything, but we can't do anything until there is a roof, until it's air tight. I'm stuck in limbo. I don't know where the next pay cheque is going to come from, and I've got a mortgage and employees to take care of."
Mr Hussain says he is determined to get his business back on track, but worries that it could take a few months.
'Horror dream'
"I'm not going to be let down by criminals. This was just a small minority, most of the young people around here are good and polite. And the local community has been very supportive," he says.
Polka Rastovic, who has run Crispins Wine Bar - a few doors down - with her husband for 30 years, agrees that the local community has helped the healing process.
She says she was hiding at the back of the bar when masked youths broke down her door and started smashing all the bottles of spirits.
"I think they were trying to make petrol bombs to burn the place down. I was very frightened. They were wild and didn't care about anything, then they were on the roof. I was surrounded - it was like a horror dream," she says.
But she says the community has been bringing in flowers and insisting on buying drinks even though the bar is not back to normal yet.
"We are trying to show the youths they are not as strong as they think," she says.
'Disappointed'
Peter Thomas, the head of finance at Pathways, a local charity which also owns the freehold of several properties in the area, says the initial estimate of the cost of the structural damage to the immediate area - which includes seven damaged shops and 13 damaged flats - is £2m.
But he says that does not take into account the cost of goods, any other contents, loss of earnings or the "human misery".
Another person who is losing out to the looters is Nick Patel, 54, a landlord with two properties above Local Supermarket.
"It could take weeks, months, to sort out - my tenants have to be looked after, and insurance people have to go through formalities. And this is coming in a recession," he says.
Flat owner Dr John Baksi, 36, has had to move out of his property above the supermarket.
"I've lost the contents in my loft. There is a lot of water damage in my lounge, and water and smoke damage throughout. I'm relieved it's not gutted, but it's a great inconvenience, luckily work have been really understanding," he says.
But although he has praise for the firefighters for preserving the building, he says he is annoyed that the fire was "potentially avoidable".
"I'm disappointed the police were so slow when violence was first reported - there seemed to be no apparent protection for residents," he says.
Another man who is still suffering from the aftermath of the riots is Alan O'Donoghue, the manager of the Kings Arms pub.
He says he was upstairs when a group kicked the door in at 02:00 BST on Tuesday.
"I heard all the clumps. They smashed out windows, turned over tables and chairs, cleared out the fridges, destroyed the tills and smashed all the spirits. They tried to set the bar on fire, and soaked all furniture in alcohol - one of the chairs [caught fire], but luckily nothing else."
He says he was outraged by what happened and is still traumatised.
"I haven't slept since it happened. It's always in the back of my mind that it could happen again. But I need to get over it and concentrate on the business, I can't be feeling sorry for myself," he says.