Top Scottish officer emerges as Met chief front-runner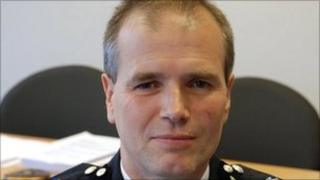 The chief constable of Strathclyde Police is emerging as the front-runner to be the new Metropolitan Police Commissioner, the BBC understands.
Former Met assistant commissioner Stephen House applied for the job after Home Office officials contacted him, says BBC correspondent Danny Shaw.
Sir Paul Stephenson stood down amid the phone-hacking scandal and applications to be his successor close on Wednesday.
Acting Met deputy commissioner Bernard Hogan-Howe is also seen as a contender.
He is a former chief constable of Merseyside and was an inspector of constabulary before being drafted into the Met.
Mr House, 54, was born in Glasgow and moved to London with his family in the 1960s.
He became a police officer in 1981, serving in uniform and operational roles with the Sussex, Northamptonshire and West Yorkshire forces. He joined the Met in 2001, where he headed the specialist crime directorate, before taking on his current role as head of Scotland's largest police force in 2007.
The new Met Commissioner will be appointed on the recommendation of the Home Secretary, who must take into account the views of the Mayor of London, Boris Johnson, and the Metropolitan Police Authority.
Riot tactics
Sir Paul resigned in July after facing criticism when it emerged the Met hired former News of the World executive Neil Wallis - who has been questioned by police investigating hacking at the paper - as an adviser.
The President of the Association of Chief Police Officers, Sir Hugh Orde, was considered among the favourites to become commissioner.
But Home Secretary Theresa May was said to be very unhappy after Sir Hugh rejected suggestions that the restoration of calm after the riots in England last week was due to political intervention, says the BBC's Danny Shaw.
The Acting Commissioner of the Met, Tim Godwin, may also apply for the top job but his chances have not been helped by the government's view that the force got its tactics wrong during the initial disturbances in London, our correspondent added.
Meanwhile, police sources think it "very unlikely" that Sara Thornton, widely praised by the prime minister for her work as chief constable of Thames Valley Police, would apply, our correspondent added.
Government sources also indicated that there was no chance of Bill Bratton, the former Los Angeles and New York police chief brought in as a consultant by ministers, getting the top job, because it would send out the wrong signal to officers in Britain.