More young rioters could be named by prosecutors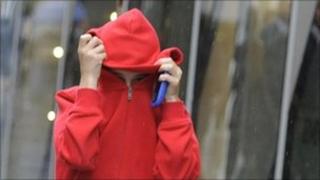 Prosecutors have received more guidance from the Crown Prosecution Service to say they can ask to name juveniles convicted over the England riots.
That guidance says a child's involvement in "significant" disorder would meet a public interest test in naming the individual.
And the Judicial Office said the senior judiciary "has given no directive" on sentencing suspected rioters.
It also said judges consider "many factors" when passing sentences.
Children aged between 10 and 17 who are charged with a crime cannot be identified unless courts agree to it.
The CPS published its revised guidance on Monday.
More than 300 juveniles have been arrested as part of police operations to identify looters and rioters.
As of Monday afternoon, there have been 2,772 riot-related arrests across seven forces, with 1,406 people charged - 330 juveniles have been arrested in London alone.
Children who are defendants can only be named after conviction if judges or magistrates rule that it is in public interest to do so.
Typically, reporting restrictions are only lifted in the highest profile cases, such as the young killers of toddler Jamie Bulger.
A CPS spokesman said: "We have issued guidance to prosecutors that states they should ask the court to lift the anonymity of a youth defendant when they believe it is required in the public interest that the youth be identified.
"Legislation permits the court to do so after conviction. These representations will be made on a case-by-case basis."
The guidance lists three examples of "strong public interest" in naming a child convicted in a youth court:
"Significant public disorder where the public will rightly need to be satisfied that offenders have been brought to justice and there is a need to deter others."
"Serious offences which have undermined the public's confidence in the safety of their communities."
"Hate crimes which can have a corrosive impact on the confidence of communities."
The guidance provides similar advice for juveniles convicted in magistrates' or crown courts.
Although the guidance provides more detailed examples than before, it stresses: "The public interest criterion [to name] will rarely be satisfied and it is wholly wrong to exercise the power as an additional punishment or for 'naming and shaming'.
"Any decision to lift restrictions should be necessary, proportionate and there must be a pressing social need for it."
A spokesperson for the Judicial Office said: "The senior judiciary has given no directive in relation to sentencing for offences committed during the recent widespread public disorder.
"When passing sentences judges consider many factors, including the punishment of offenders, the reduction of crime by deterrence, and the need to protect the public."