Haroon Jahan: Grieving father pays tribute to son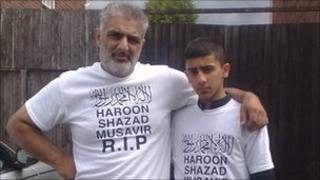 Tariq Jahan is sitting in the living room of his semi-detached house in Winson Green, Birmingham.
It is just a couple of hundred yards around the corner from where his 20-year-old son Haroon, and two friends, brothers Shazad Ali, 30, and Abdul Musavir, 31, were killed during the riots a week ago.
A shrine of bouquets has been left on the street where they died, and is growing as members of the public turn up to pay tribute and take pictures.
The young men were hit by a car as they apparently protected local shops during a night of rioting. Two men, Adam King, 23, from Kings Norton, and Joshua Donald, 26, from Ladywood, and a 17-year-old boy from Winson Green who cannot be named, have been charged with the murders.
Although he is grieving, Mr Jahan manages to present a brave front and only falters once during the interview.
He describes his last moments with Haroon after finding him lying on the road, saying: "I lay next to him and put my arm under him and whispered in his ear, 'son, even if the angel of death comes down to ask for you now, I'll stand before him'."
Mr Jahan's faith is helping him. He is a Muslim and says that he believes in divine fate and destiny. He says he also gains strength from his two other children, son Tahir and daughter Sophie, both in their early 20s.
He admits, however, that when he and his wife, Tahira, are alone, there is an outpouring of grief.
"When we're alone at night, my wife and I comfort each other. We cry like children and let it all out. How does a wife tell her husband, how does a husband tell his wife that their son is dead? Haroon was only twenty years old."
'So many letters'
Mr Jahan says they are coping well thanks to support from family, relatives and many members of the public, across faiths, colour and creed. He believes he is not worthy of the position his son has left him in.
He said: "I've had so many letters, I've never seen so much mail in my life. I'm humbled by the respect I've been given by the public."
He also revealed that he always thought he would lose his son before he was 25 years old.
"I always told my wife that he'd die in her arms. I didn't know that he'd die in my arms. I don't know why I said it. Maybe I knew something, I don't know."
Family 'spark'
Haroon studied at Shireland Language College but he was not interested in academia. His focus was on cars, fixing them and trading. His father says that he never trained to be a mechanic but that it was something that his son loved.
"He wasn't a normal child. My daughter was always clashing with him, she said he was so intelligent but he was wasting his life as a mechanic. She had high hopes for him but I never stopped him from doing anything he wanted to do. If he wanted to do it, he'd get it done."
"I don't have a fatherly relationship with my children, we're all mates. We used to love boxing. I used to get in the ring with them, we'd spar together. I'd beat them up and they'd say 'dad, you're getting old, you're getting slow'. We were very close. Unfortunately, now he's gone, I only have memories left, they hurt in your heart and bring tears to your eyes."
Describing his youngest son as the "spark" in the family, and as a highly intelligent human being, he said that Haroon was nevertheless terribly shy.
"As a young man Haroon... would never look at a person's face or make eye contact with them. It was a weird, funny habit. I used to tell him that he must look at people when he's talking to them. I miss him deeply, so very much."
You can hear more on Asian Network Reports on the BBC Asian Network at 1230 BST and 1800 BST Monday to Friday and after on BBC iPlayer